Antique sword dealers - WW2 veterans -WKC Solingen Sword Buyer- sword dealer -ceremonial dagger R.A.D.Daggers, Red Cross Daggers & Hewers free valuation, second world war, Selling a German war souvenirs, Selling German Dagger In South Australia, selling Militaria in Calafornia, Selling Swords And The Law, selling Swords Legally, Selling WW2 Daggers, SENDING BLADES, Solingen Dagger, specialists in militaria, ss Dagger Dealers, SS Daggers, Steinbech-Hallenberg, Suhl, The Free Valuation of German daggers, THE PRICE GUIDE TO GERMAN DAGGERS 2016, There's no better way to understand history, Third Reich Police Bayonet Buyers, Third Reich Symbolism, Third Reich. A German-Italian Campaign Medal , Valuation of German swords, Verbot des Verkaufs der nationalsozialistischen Militaria., VETERAN'S FAMILIES, Waffen-SS, War Merit Cross, Wasserschutzpolizei , Water Protection Police, We Buy Navy Daggers, Who Ownes Hitler's Mercedies, WMW/Waffen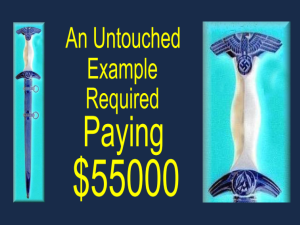 Posted by
admin
on Dec 17, 2017 in
"Mehr sein als scheinen"
,
"The National Army Museum Education Department"
,
alles fur deutschland dagger values
,
Alles Fur Deutschland SA Daggers
,
August Bickel
,
authentic military artefacts
,
banned from ebay
,
Early Type 30 bayonets
,
General Assault Badge
,
hooked quillion
,
Pattern 1897 bayonet
,
Robert Klaas
,
Solingen-Ohligs
|
Comments Off on Pattern 1897 bayonet
2018
LEGISLATION STATES THAT
SENDING BAYONETS TO ANYTHING OTHER THAN A BUSINESS ADDRESS IS AGAINST POSTAL SERVICE GUIDELINES AND MAY RESULT IN PROSECUTION.

The Type 30 Bayonet was a single-edged Sword Bayonet with a 400 millimetres (15.75 in) blade and an overall length of 514 millimetres (20.24 in) with a weight of approximately 700 grams.

The Type 30 bayonet is also known as the "Pattern 1897 bayonet".

Early Type 30 bayonets usually sported a hooked quillion guard which gave it a distinct look, but later models had a straight hand guard.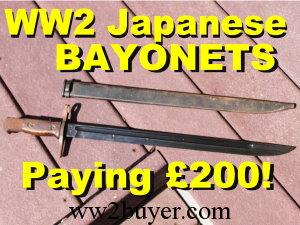 The design was intended to give the average Japanese infantryman a long enough reach to pierce the abdomen of a cavalryman. However, the design had a number of drawbacks, some caused by the poor quality of forgings used, which tended to rust quickly and not hold an edge, and to break when bent.
The weapon was manufactured from 1897 to 1945 at a number of locations, including the Kokura Arsenal,Koishikawa Arsenal  (Tokyo) and Nagoya Arsenal  as well as under contract by private manufacturers including Matsushita, Toyoda Automatic Loom and others.