Militaria dealers- S.A.Rohm Dagger- N.P.E.A. Dagger, Arbeit Adelt - Puma Solingen - Blut Und Ehre-Alcoso Paul Weyersburg -Ges Gesh-Emil Voos RZM/M7/36,Teno Hewer- Selling at auction Selling Military Memorabilia- WKC Solingen- Dress Dagger Etched Blade-Brass Scabbard-Krebbs Solingen, Feldherrnhalle-Diplomatic Dagger- Bayonet Sword Buyer-Sword Dealer- WKC Solingen, meine ehre heist treue-Carl Eickhorn, rzm dress dagger- ww2 dagger - ceremonial dagger, alles fur deutschland - blut und ehre -Clemen & jung, banned from Ebay- Antique sword dealers-WW2 veterans
Posted by
admin
on Oct 21, 2015 in
d type cloth oxygen mask
,
German Militaria
,
Museum of Militaria buyers
,
Nazi Dagger Expert
,
Nazi Dagger Expertise is Our Domain
,
Sell Military Collections
,
Selling Knives On Ebay
,
THE PRICE GUIDE TO GERMAN DAGGERS 2016
,
TO SELL MILITARIA TELEPHONE DAY OR NIGHT!
,
types of German daggers
,
Uncategorized
|
0 comments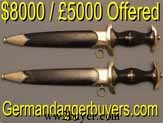 £43,000/$65,000 PAID FOR THE ABOVE   TO SELL ADMIRAL DOENITZ'S DAGGER FOR $200000 $20000 offered Karl Dönitz's Knights Cross of the iron cross was I believed stolen in 1945 together with his passport,One of his daggers his ink stand and a pair of his pajamas around the time that members of  the Special Air Service occupied his property. The assumption...