Ebay Has banned The Listing Of Nazi Memorabilia .
WELCOME
We Offered A Fast 24 Hour Offer/Free Valuation Service
So for an immediate insight into what you
have and it's value (Offer free Valuation)
take advantage of out on-line form →,

Ebay the major internet Auction site has
banned the sale of most WW2 German Items.

Those containing swastikas or associated Third Reich symbols.

The sale of Edged Weapons on 
Ebay is also no longer permitted.

German Dagger buyers .com.
Was set up in response to these policies in 2007.

Our aim has been to provide an ethical outlet for 
those faced with the task of selling these valuable historic Artifacts.

German Dagger Buyers.com are sensitive to the concerns
and responsibilities connected
such items.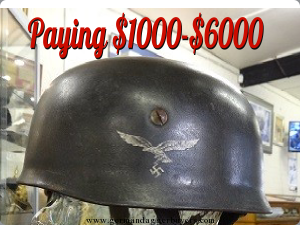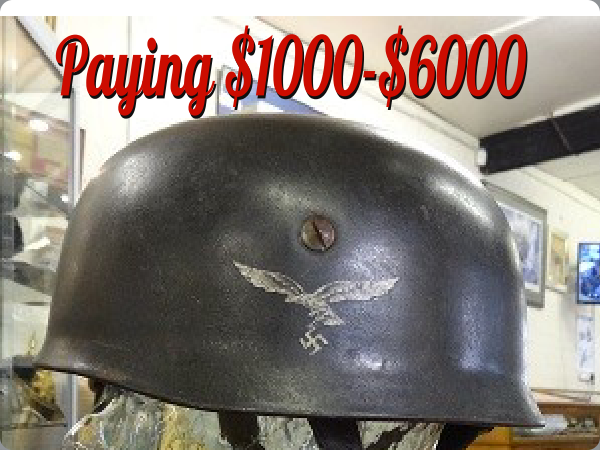 We do not support the open sale of Nazi memorabilia
or indeed the unregulated sale of edged weapons on-line.
Sellers to German Dagger Buyers.com may be comforted to
know that we buy primarily for advanced mature collectors
who's interest often stems from their having been given
WW2 souvenirs by their Fathers or Grandfathers.
We Supply Guaranteed Genuine "Militaria" to
Genuine Museums and ethical investment groups.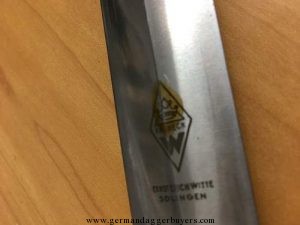 Items sold by you to German Dagger buyers.com
will not be sold to Racist groups or to young people.
Kind Regards
David Mattey GDB.com
P.S Items sold with details of the G.I. or Tommy
who bought them home may be of higher value.
Dagger Types

          Values

  Dagger     Types

          Values

   SA 1933 EM(Value Down)

Average condition U.S $550  U.K £375 Investment Grade examples up to $800 U.K. £580

 

   Teno EM                 Hewer Value

V.G. £1,475 $2000

Fine.£2000  $3000

 LUFTWAFFE         1937

Teno Officer +

£3,400+

SA Honor +

£52,00

Forestry

£900

SA High Leader

£25,000

Hunting Official –

£1,300

SA Rohm EM –

£3800

Rifle Association

£1,500

SA Rohm Chained

£5,000

Hitler Youth Knife

£400

feldenhaller +(Value Up)

£55,000

Hitler Youth Leader

£3,500

NSKK 1933 EM(Value Down)

U.S.550U.K.£350

HD

£400

NSKK 1936 Chained Dagger –

£3,800

Land Customs +

£1,700

NSKK High Leader +

£32,000

Sea Customs +

£5,500 shown on the right hand side

SS 33 EM Dagger+

£2,600

Water Protection

£3,500

SS 1936 Chained Dagger

£4,650

Imperial Navy

£1200

SS High Leader –

£57,000

RAD LEADER

Up £950 $1600


SS Honor +

£52,000

NPEA student

£2,000

Luftwaffe 1(Value Hovering)

U.S.$700U.K£550

NPEA Leader

£6,000

Luftwaffe 2 -(Value Down)

U.S.$450U.K.£200

NPEA Chained

£6,000

Navy 1

£900

RAD EM +

£650

Navy 2(Value Down)

U.S.$600U.K£450

Postal protection-

£1800

Army Dagger -(Value Down)

U.S.$400U.K£220

DRK EM

£450

Army Engraved Dagger +

£1,600

DRK /Social Welfare Leader

£1,200 Shown on the left hand  side

DLV knife –

£900

RLB EM 1st model

£900

DLV/Luft1 transitional+

£2,400

RLB EM 2nd model

£800

NSFK knife

£900

RLB Officer 1st model

£1,500

NSFK Dagger

£1,800

D Y V

£225 $300 

1st Railway-

£1,500

Government Official

£4800

2nd Railway –

£2,700

Diplomatic Officer

£6,000-£9000 Paid

Fire Official

£800