Posted by
admin
on May 22, 2018 in
"Mehr sein als scheinen"
,
alles fur deutschland dagger values
,
Arundel Militaria
,
August Bickel
,
authentic military artefacts
,
Battle Of Britain Flying Helmet
,
BEFORE YOU BUY AN SS DAGGER
,
Clemen & Jung
,
d type cloth oxygen mask
,
Daggers
,
Daggers Wanted By Carl Heidelberg
,
Deactivated Guns U.K.Only
,
Demyansk Shield
,
Der Zulssig Verkauf Von Dritten Reiches Medaill
,
Deutsche Polizei
,
Early Type 30 bayonets
,
Eduard Gembruch
,
Feldernhalle
,
Forestry Cutlass
,
German dress daggers
,
German officers
,
popular souvenir
,
second world war
,
we make offers for your German daggers and militaria
,
Who Ownes Hitler's Mercedies
,
Why Sell To German dagger Buyers? All historical artifacts acquired by German Dagger Buyers.com are for the consumption of mature collectors
|
Comments Off

on German Daggers and Knives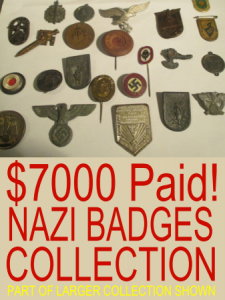 German dress daggers and knives were a popular souvenir for returning veterans who had served in Europe during the second world war .   For the German officers who wore them Nazi Daggers were a symbol of rank,and, status.  . Contrary to popular belief Dress daggers were not designed as weapons, but simply...