Antique sword dealers - WW2 veterans -WKC Solingen Sword Buyer- sword dealer -ceremonial dagger R.A.D.Daggers, Red Cross Daggers & Hewers free valuation, second world war, Selling a German war souvenirs, Selling German Dagger In South Australia, selling Militaria in Calafornia, Selling Swords And The Law, selling Swords Legally, Selling WW2 Daggers, SENDING BLADES, Solingen Dagger, specialists in militaria, ss Dagger Dealers, SS Daggers, Steinbech-Hallenberg, Suhl, The Free Valuation of German daggers, THE PRICE GUIDE TO GERMAN DAGGERS 2016, There's no better way to understand history, Third Reich Police Bayonet Buyers, Third Reich Symbolism, Third Reich. A German-Italian Campaign Medal , Valuation of German swords, Verbot des Verkaufs der nationalsozialistischen Militaria., VETERAN'S FAMILIES, Waffen-SS, War Merit Cross, Wasserschutzpolizei , Water Protection Police, We Buy Navy Daggers, Who Ownes Hitler's Mercedies, WMW/Waffen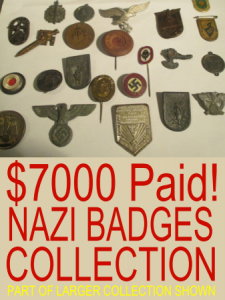 Posted by
admin
on May 22, 2018 in
"Mehr sein als scheinen"
,
alles fur deutschland dagger values
,
Arundel Militaria
,
August Bickel
,
authentic military artefacts
,
Battle Of Britain Flying Helmet
,
BEFORE YOU BUY AN SS DAGGER
,
Clemen & Jung
,
d type cloth oxygen mask
,
Daggers
,
Daggers Wanted By Carl Heidelberg
,
Deactivated Guns U.K.Only
,
Demyansk Shield
,
Der Zulssig Verkauf Von Dritten Reiches Medaill
,
Deutsche Polizei
,
Early Type 30 bayonets
,
Eduard Gembruch
,
Feldernhalle
,
Forestry Cutlass
,
German dress daggers
,
German officers
,
popular souvenir
,
second world war
,
we make offers for your German daggers and militaria
,
Who Ownes Hitler's Mercedies
,
Why Sell To German dagger Buyers? All historical artifacts acquired by German Dagger Buyers.com are for the consumption of mature collectors
|
Comments Off on German Daggers and Knives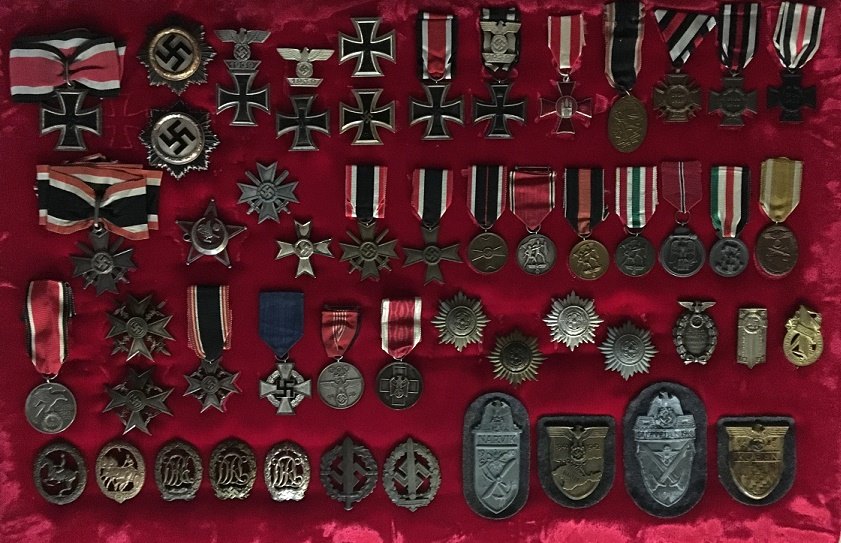 German dress daggers and knives were a popular souvenir for returning veterans who had served in Europe during the second world war .
For the German officers who wore them Nazi Daggers were a symbol of rank,and, status.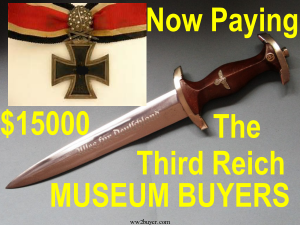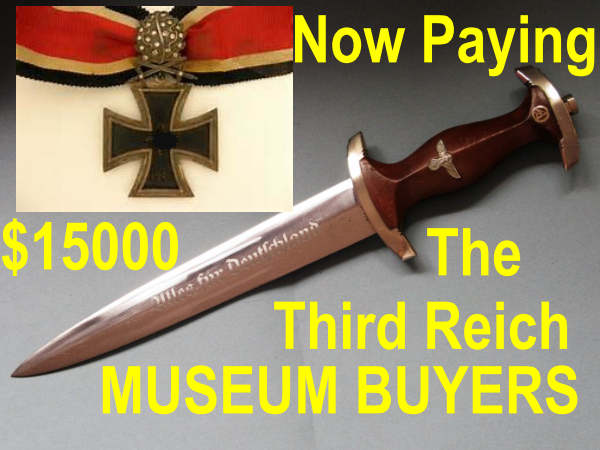 . Contrary to popular belief Dress daggers were not designed as weapons, but simply as an accessory to the uniforms of the German Officers.

Some of the more common of these  are the; The German Armu Dagger (aka Heer Dagger),Luftwaffe  (aka Air Force Dagger),Navy Dagger (aka Kriegsmarine Dagger), and the Hitler youth dagger (aka HJ Dagger). There is the SS dagger with SS symbol at the top of the handle, just beneath the top cross guard.
SS Daggers must be carefully scrutinised due to the extremely high number of very detailed reproductions dating back decades!  Novice collectors will unwittingly purchase an SS Dagger,
only to discover later
they purchased a very well made fake often produced from a mixture of both replica and genuine parts .