"alles fur deutschland"


£43,000/$65,000 PAID FOR THE ABOVE NAZI DAGGER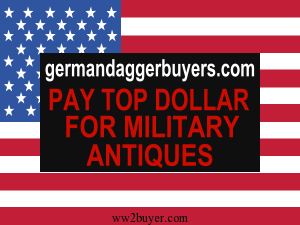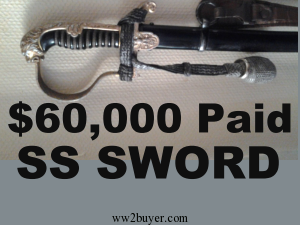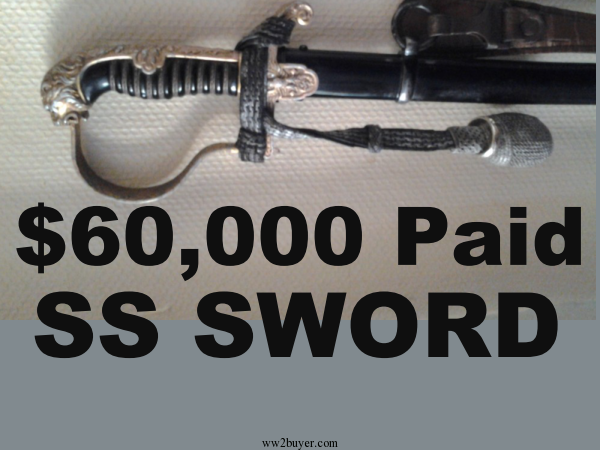 dagger values
Warning! The Selling Of NAZI Daggers has been stopped on Ebay and other internet sites.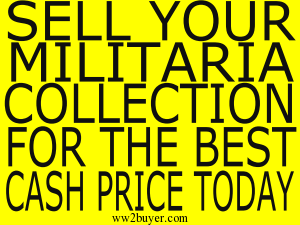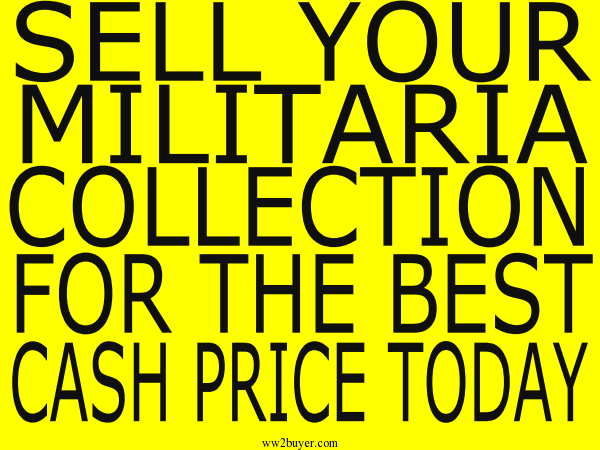 We at German Dagger buyers aim to provide the finest service for families of WW2 veterans wishing to obtain the correct market value for treasured souvenirs.

 German Dagger Buyers.com
aim to provide one of the very few ethical outlets
for Nazi Memorabilia on the internet.



We do not sell on line.




As Arundel Militaria Dealers we supply legitimate museum collections.




We despise  antisemitism.




We only require genuine WW1 and WW2 relics




collected and bought home by U.S. and




commonwealth Service personel.




We are never knowingly outbid on items we require.
---
"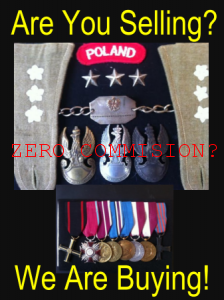 We do not rely on fast returns from our investments.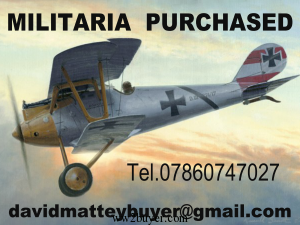 Ours is a vocation and lifelong project.
 Exhibits in this collection are our stock.
Whether they sell today or next year is not critical .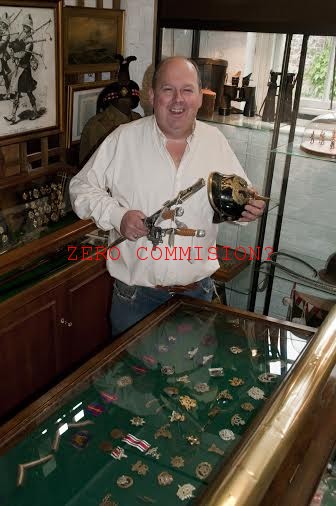 David Mattey (Buyer)
                S.E.O. Who Understands It? And Other Chatter
 By overlaying images with text we believe our
customers will be able assimilate information relating to their 
militaria much faster.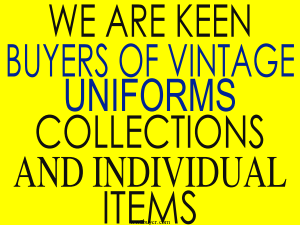 germandaggerbuyers.com wish to provide  the best website for those wishing 
to dispose of militaria,broaden their knowledge, or simply satisfy their curiosity-
-with respect to market values.
The science behind being recognised by search
engines is something that we are learning slowly.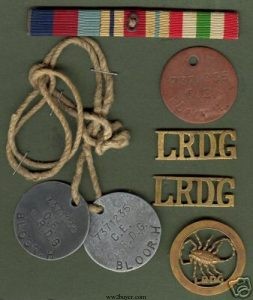 We understand and appreciate why Google like
informative text in
favour repetitive advertising.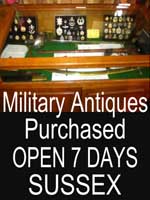 As German Dagger buyers who are not buying to
sell on-line we are perhaps at a disadvantage.
The immense amount of work that has gone
into achieving our "at a glance pictorial valuations"
might not be what the "Panda?"
The Google search robot is looking for?
The very criteria of our website may well be allien to
Google's ethos?
We know that the selling of Nazi memorabilia and edged
weapons is something that Ebay have dropped in line with their responsible
attitude towards dissipating objects and information likely to offend or create
hatred..
germandaggerbuyers.com is part of www.themilitariamarket.com we wish to
provide a legitimate outlet for those charged with the selling of valuable WW2
items.
We do not endorse the marketing of reproduction Nazi iconography.
We actively disagree with massive un monitored traffic in  weapons over the
internet.
How then can a well intentioned militaria dealer attract those wishing to sell to
thier website?
We are an unwilling educational resource and for good reason.
Many
Widows,sons and daughters of veterans have contacted 
germandaggerbuyers.com over the years with the sole intention of disposing of
items they do not feel comfortable owning.. 
Frequently they have been kicked off
of Ebay and then have turned to us with the sole intention of selling.
Such individuals have absolutely no interest in ether the history or purpose of
thier
militaria.
They do however deserve to be able to obtain the best market value for
what they have inherited.
Our website is greatly informative, however because our text is overlaid onto images the robots have trouble recognising our format .We also loose out to younger dealers who simply copy our information and optimise their militaria buying  sits in a more cutting edge fashion.
 

We at GermanDaggerBuyers.com specialize in the buying of your German Daggers and other war souvenirs.

Edged weapons and WW2 German memorabilia have been banned from the major internet auction site EBAY.

You may be comforted to know that we at GermanDaggerBuyers.com buy exclusively for a vetted circle of responsible academic collectors, museums and historians.

GermanDaggerBuyers.com never condones or promotes the Nazis or any other hate groups!

We believe that the preservation of objects (evidence) from this dark era only has validity within an educational context.

GermanDaggerBuyers.com buys directly from you, therefore you avoid letting auctioneers take a slice of the pie.

GermanDaggerBuyers.com considers that the open display of Nazi symbols outside of a balanced historical collection to be both irresponsible and offensive.

Our Payment Policy is straightforward: You receive immediate advanced payment for your items in full.

We pay any duty on goods arriving from outside the Country and pay all postal costs.

This chart shows the range of prices being paid In advance via the"Paypal" service or similar By German Dagger Buyers.com.


 We require original examples of the following suitable for museum collections.

 1933 & 1936 pattern SS daggers

U.S.  $3500-$7000

U.K. £2500-£5000

NSKK(National Socialist Motor Corps) daggers1933&1936 Daggers

U.S.  $500-$4000

U.K.  £280-£3000

NPEA (National Political




Educational Institute) daggers

U.S. $3000-$6000U.K.         £2000-$4000

1933 SA (Storm Troops) daggers

U.S. $280 -$750

U.K.£250-£600

Heer (German Army)




Officer daggers

U.S.$250-$700

U.K.£180-£600

DLV (German Air Sports Formation) Flyers Knives

U.S.$700-$900

U.K.£450-£650

NSFK (National Socialist Flying Corps) Flyers knives

U.S $700-$900

U.K.£450 -£650

Luftwaffe (German Airforce) daggers and Gravity Knives

U.S.$300-$875

U.K.$180-$675

German Navy daggers

U.S.$300 $700U.K.         £280-£800

RAD (Reichs Labor Service) daggers

U.S.       $600-$1100




U.K.     £480 – £1700

Diplomatic/Government




Official daggers

U.S.       $6000-$9000U.K.     £4000- £6500

Red Cross/Social/Welfare




Official daggers

U.S.     $400-$1200U.K.     £300-£900

German Fire Official daggers,Saw Back adds 30%

U.S.      $100 -$200U.K.       £75-£160

RLB (Reichs Air Protection Federation) daggers

U.S.     $1600-$2600U.K.   £700 -£2000

TENO (Technical Emergency Corps) daggers

U.S.     $3400-$6000U.K.    £2000 – £5000

German Custom Official daggers

U.S.     $2200-$5000U.K.     £1600-£7000

German Railway Official daggers

U.S.     $3500-$4500U.K.     £2800-£4700

Postshutze




(Postal officials daggers)

U.S.      $4000-$6000U.K.     £2200-£4000

Forestry, Hunting, and Rifle Association daggers

U.S.     $1200-$1800U.K.     £700-£1200

HJ (Hitler Youth)/DJ




(German Youth)

U.S.       $150-$550U.K        £100-£325




£4000/$6000 for Leaders
i
Market Assessment of German Dagger value trends observed during 2012-13
Dagger Types

          Values

  Dagger     Types

          Values

SA 1933 EM(Value Down)

Average condition U.S $550  U.K £375 Investment Grade examples up to $800 U.K. £580

 

Teno EM Hewer

Value

V.G. £1,475 $2000

Fine.£2000  $3000

 LUFTWAFFE         1937

£3000

Teno Officer +

£3,400+

SA Honor +

£52,00

Forestry

£900

SA High Leader

£25,000

Hunting Official –

£1,300

SA Rohm EM –

£3800

Rifle Association

£1,500

SA Rohm Chained

£5,0

Hitler Youth Knife

£400

feldenhaller +(Value Up)

£55,000

Hitler Youth Leader

£3,500

NSKK 1933 EM(Value Down)

U.S.550U.K.£350

HD

£400

NSKK 1936 Chained Dagger –

£3,800

Land Customs +

£1,700

NSKK High Leader +

£32,000

Sea Customs +

£5,500 shown on the right hand side

SS 33 EM Dagger+

£2,600

Water Protection

£3,500

SS 1936 Chained Dagger

£4,650

Imperial Navy

£1200

SS High Leader –

£57,000

RAD LEADER

Up £950 $1600




SS Honor +

£52,000

NPEA student

£2,000

Luftwaffe 1(Value Hovering)

U.S.$700U.K£550

NPEA Leader

£6,000

Luftwaffe 2 -(Value Down)

U.S.$450U.K.£200

NPEA Chained

£6,000

Navy 1

£900

RAD EM +

£650

Navy 2(Value Down)

U.S.$600U.K£450

Postal protection-

£1800

Army Dagger -(Value Down)

U.S.$400U.K£220

DRK EM

£450

Army Engraved Dagger +

£1,600

DRK /Social Welfare Leader

£1,200 Shown on the left hand  side

DLV knife –

£900

RLB EM 1st model

£900

DLV/Luft1 transitional+

£2,400

RLB EM 2nd model

£800

NSFK knife

£900

RLB Officer 1st model

£1,500

NSFK Dagger

£1,800

D Y V

£225 $300 

1st Railway-

£1,500

Government Official

£4800

2nd Railway –

£2,700

Diplomatic Officer

£6,000-£9000 Paid

Fire Official

£800

 

Militaria dealers,  S.A.Rohm Dagger,  N.P.E.A. Dagger, Arbeit Adelt,  Puma Solingen,  Blut Und Ehre,Alcoso,Paul Weyersburg,Ges Gesh,Emil Voos,RZM/M7/36,Teno Hewer, Selling at auction, Selling Military Memorabilia, WKC Solingen, Dress Dagger,Etched Blade,Brass Scabbard,Krebbs Solingen,Feldherrnhalle,Diplomatic Dagger, Bayonet, Sword Buyer,Sword Dealer.
The Trade In Nazi Artifacts .
The high values of Third Reich period "Miltaria" indicate that this market is strong.
Helmets frequently sell at four figure sums,as do U-Boat Binoculars.Daggers etc
As the generation of WW2 veterans passes both Axis and Allied Memorabilia are enjoying
a rise in values. Themed video games insure, Hollywood, The history channel and the ever expanding reenactment culture perpetuate interest in the subject.
The hanging of swastika flags in one provincial auction house in 2012 was ether, a
 failure of sensitivity on the part of the auctioneer or an ill judged strategy to attract free
Not surprisingly this and similar cases ferment debate over the morality the trade in
Militaria from mankinds dark past.
A debate which has permeated into the House of commons with some members of
parliament calling for a ban.
Newspaper coverage of these events and the decision to publish pictures of the
Swastikas enabled a far greater audience to be reminded and offended ?
A code of practice could  be introduced for Auctioneers and dealers in Third
Most enthusiasts would welcome a ban on reproduction flags,Mugs and fantasy badges,
Items aimed at the impressionable teenage market.
Distinctions should however be made between the items that are likely to upset,offend or to promote racism.
And innocent items of combat paraphernalia that serve to fascinate students of history.
Our site is dedicated to the buying of Militaria from the period 1914 – 1945. Our Historic Museum style store displays an impressive stock of veteran acquired souvenirs. We are amongst the most popular of permanent destinations for museum buyers and collectors. We are sole buyers and suppliers to one museum in Normandy France. It seems fitting for items to returnto the theater they were plucked from and put back on display. Other customers include the most advancedcollectors as well as  a couple of approved ethical, academic web sites.War trophies were returned from the western front by my Grandfather William(Bill) Mattey.These together fueled my interest.Whilst combat paraphernalia is  unlikely to upset or offend. We unreservedly distance ourselves from the unregulated sale ofNazi artifacts and edged weapons online.Sincerely David Mattey
WKC Solingen, meine ehre heist treue,Carl Eickhorn, rzm/,dress dagger,ww2 dagger, ceremonial dagger, alles fur deutschland, blut und ehre ,Clemen & jung,banned from Ebay, Antique sword dealers,WW2 veterans .