Antique sword dealers - WW2 veterans -WKC Solingen Sword Buyer- sword dealer -ceremonial dagger R.A.D.Daggers, Red Cross Daggers & Hewers free valuation, second world war, Selling a German war souvenirs, Selling German Dagger In South Australia, selling Militaria in Calafornia, Selling Swords And The Law, selling Swords Legally, Selling WW2 Daggers, SENDING BLADES, Solingen Dagger, specialists in militaria, ss Dagger Dealers, SS Daggers, Steinbech-Hallenberg, Suhl, The Free Valuation of German daggers, THE PRICE GUIDE TO GERMAN DAGGERS 2016, There's no better way to understand history, Third Reich Police Bayonet Buyers, Third Reich Symbolism, Third Reich. A German-Italian Campaign Medal , Valuation of German swords, Verbot des Verkaufs der nationalsozialistischen Militaria., VETERAN'S FAMILIES, Waffen-SS, War Merit Cross, Wasserschutzpolizei , Water Protection Police, We Buy Navy Daggers, Who Ownes Hitler's Mercedies, WMW/Waffen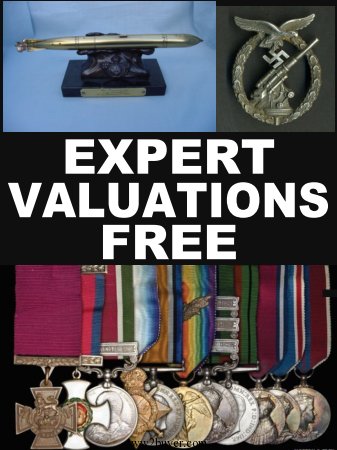 When faced with the daunting task of selling Family treasures or a cherished collection one obvious choice is to contact a local auctioneer . You should be warned that you will only receive 50% of what the buyer pays at auction. Perhaps a better option is to allow us to research the items you propose selling ? By establishing what prices have been achieved for similar items in the past we equal or better recorded prices without your being robbed in unnecessary charges . Here is a great example of what you can expect from us . 100% of the recorded value rather than the 50% Auctioneers provide .. What is in it for us ? That is easy we are high street retailers and museum suppliers . We have an appetite for fresh goods to be supplied to our growing number of History buyers. Call Today on +447860747027 Or Email davidmatteybuyer@gmail.com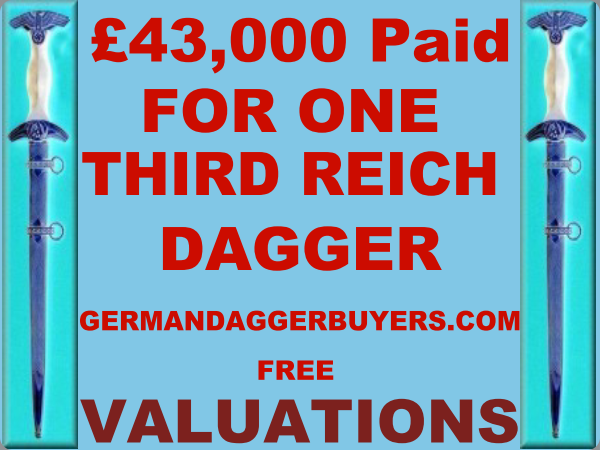 Let Us Face Some Facts.
For Every Innocent Militaria Collector There Are A Hundred Who Look Upon Their Collection Primarily As An Investment Portfolio..
Wives And Children Generally Have Little Or No Idea Just How Much Cash Is Represented By A Militaria Collection ..
For this Reason German Dagger Buyers.com Offer The Most Discreet Service For Those Who Value The Privacy Of Their Finances ..

We Investors Waiting
Who Buy Exclusively From Ourselves..
Even If You Are Not Ready Contact David Mattey Today And Learn About our Confidential Selling And Buying Services..

davidmatteybuyer@gmail.com Telephone +447860747027 Or + 441903884602. I'm quite certain you're aware that most successful businesses always have their website come up on the first page of Google search results since they're more relevant, popular, and more credible compared to the other companies found on page 2 or so on. Have you ever wondered how these websites dominated the first page? It's not at all difficult to achieve! We can put your site on the first page using search engine optimization.
I ran a few tests on some websites and found out that there are many keywords you can potentially rank for. These are crucial for you to be easily found while people searching on Google input words relevant to your products or services. To give you an idea of my work, I will send you case studies of websites We have worked with before and how they gained more profit after the optimization.
We will also give you a free consultation over the phone, and the information about your website can benefit you whether or not you choose to avail of my services. Don't worry about my fees since my target market are for small businesses and I deliver excellent results that come at a fare price. I look forward to speaking with you soon. Would you like to schedule a phone call +447860747027