Posted by
admin
on Nov 7, 2018 in
"Mehr sein als scheinen"
,
"The National Army Museum Education Department"
,
15% Of The "Hammer Price plus VAT
,
alles fur deutschland dagger prices 2
,
alles fur deutschland dagger value 1
,
alles fur deutschland dagger value 2
,
alles fur deutschland dagger values
,
Alles Fur Deutschland SA Daggers
,
August Bickel
,
authentic military artefacts
,
banned from ebay
,
blc binoculars
,
British Commonwealth Medals
,
Brownshirt's Dagger
,
Bund Deutscher Mädel
,
Carl Spitzer
,
Castle town of Arundel
,
CHARLOTTONBURGX
,
d type cloth oxygen mask
,
D Type Oxygen Mask
,
daggers
,
Daggers Wanted By Carl Heidelberg
,
Dealers In Nazi Daggers
,
Dealers Selling Military Antiques in New Hampshire?
,
Der Zulssig Verkauf Von Dritten Reiches Medaill
,
feedback
,
Feldherrnhalle
,
German Badges
,
German Dagger Buyers.com
,
German dagger specialists
,
german daggers
,
Germany
,
Malsch
,
Selling German Swords
,
Selling German war souvenirs
,
Solingen Dagger
,
SS Daggers
,
The Free Valuation of German daggers
,
The German Iron Cross
,
THE PRICE GUIDE TO GERMAN DAGGERS 2016
,
Uncategorized
,
Who Ownes Hitler's Mercedies
,
Why Sell To German dagger Buyers? All historical artifacts acquired by German Dagger Buyers.com are for the consumption of mature collectors
,
WMW/Waffen
|
Comments Off on German Dagger Auctions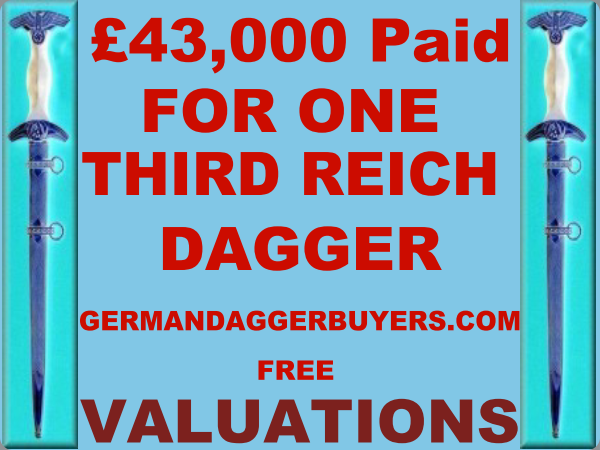 First World War Items Required

UK.ONLY

Cash Buyers

$3600 Paid

WWW.German Dagger buyers . com
German dagger auctions are banned from Ebay or at least those daggers which display the swastika are . Even if the selling of knives were permissible the law states that daggers ,swords and other knives cannot be posted to any residential (Non Business ) address.
German dagger Buyers was set up in response to eBay's change of policies relating to Nazi memorabilia . David Mattey of German Dagger buyers.com believes that their is only one place for Nazi memorabilia and that is an appropriate collection .
David does not sell to youngsters or anybody who wishes to reinforce a political message by displaying Nazi items. David being a child of the 1960's acquired his interest in the second world war by watching War films and documentaries, he is very much a liberal thinker however his knowledge of German militaria is widely respected within the collecting community . History must be preserved . It is an unwritten duty of mankind . Genuine artefacts which bore whiteness to the second world war provide students of History with a connection with the past beyond the written word or pictures .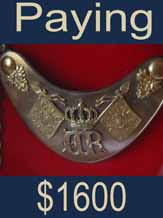 Those of you who decide to sell your collection or individual items should take comfort in learning that they are not falling into the wrong hands . Daggers, Swords, Badges ,flags, Helmets, Medals, flying Equipment are examples of the many items we wish to acquire. Our basic offers/free valuations are genuine researched market assessments. We know at a glance in most cases the potential interest and worth your items possess ..

davidmatteybuyer@gmail.com
Please telephone David Mattey
+441903-884602 or +447860747027 .
All conversations and emails are confidential . Our accountant makes all payments using Paypal or what ever suits you best .. Visitors to our store can receive cash by prior arrangement or bank transfer if preferred..