Obtain our opinion/offer/free valuation.
Simply fill in the form or email- davidmatteybuyer@gmail.com
German Dagger Buyers.com
Welcome to the first original and
now the primary German Dagger buying website.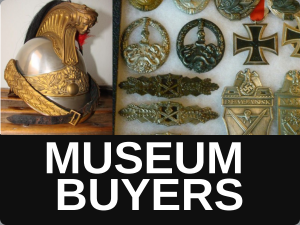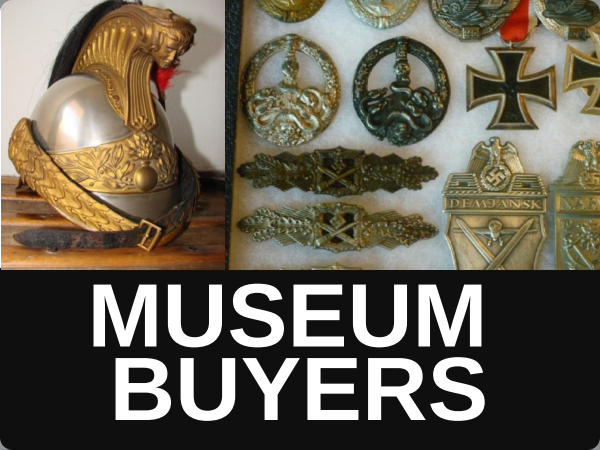 If you have any quantity of WW2 memorabilia we know that we can provide a competitive service anywhere around the world .

We have more than ten years experience in the buying and selling of German Daggers,Badges, flags,Helmets etc etc.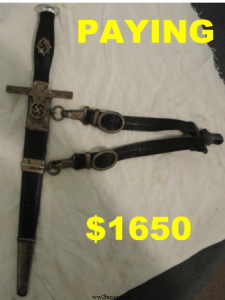 We supply genuine militaria to genuine collectors ,museums and investors .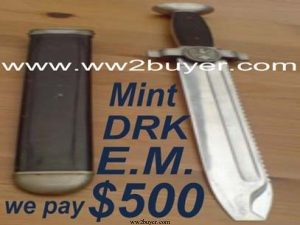 Please make contact by sending me an email message davidmatteybuyer@gmail.com or by completing the form provided in the right hand column or by telephoning me on +447860747027.

if I am busy please leave your details and I will get back to you within a short amount of time .

I have owned or handled every conceivable pattern of Dagger,Badge ,Helmet,Medal etc .

If your expectations are high because you have nice items you are exactly the kind of person we can deal with.

We Sell grade A) 1933 pattern SS Daggers for example for around £3000 $4000 therefor you can expect to achieve £2550 $3500 when selling a similar item to us.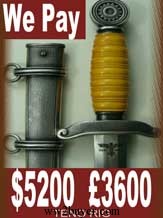 Our customers rely on us in many cases to formulate entire collections ..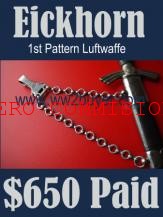 My interest in the buying and selling of WW2 Items is all consuming .

It is bug which stems from watching War films back in the 1970s.

If your Dad bought back a dagger from WW2 and you have decided to find a deserving home for it I would like to talk to you about our community of genuine collectors ,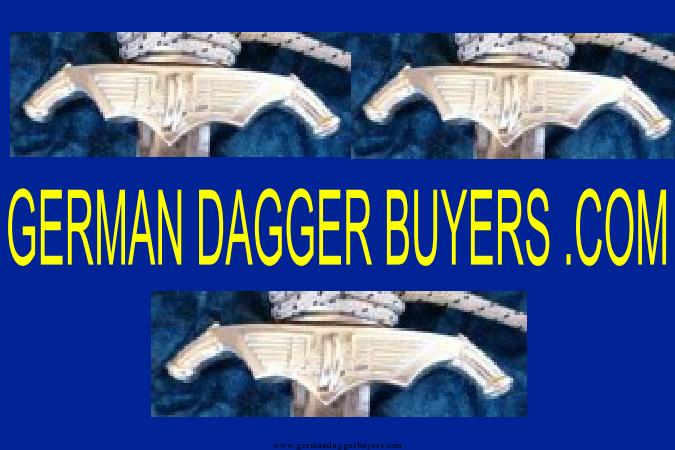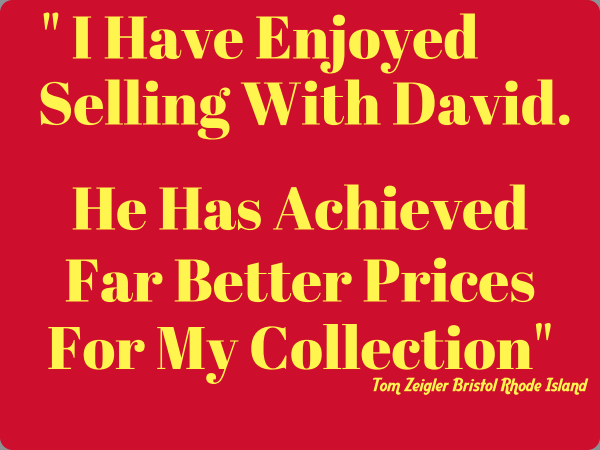 Inter War Era, German Anton Wingen Jr, Solingen 'Jagers Lust Und Freude' (Hunters Lust & Joy) Hunting / Skinning Knife With Etched Rostfrei (Early Stainless Steel) Blade, Stag Antler Grips, German Silver fittings & Leather Scabbard.
This German inter war hunting / skinning knife is 226mm overall length. The knife's 119mm single edged blade is undamaged with just small areas of staining. The blade is crisply marked on one side with the manufacturer's name 'Anton Wingen Jr, Solingen Germany' together with 'Jagers Lust Und Freude' (Hunters Lust & Joy) motto & Stag's head logo. The reverse is marked ' Solingen Rostfrei', denoting that the blade is made from an early form of stainless steel and other indistinct mark ( all illustrated). It has attractive Antler scales which are in great condition. It has a small German Silver finger guard and pommel. The knife is complete with original brown leather scabbard which has an integral single leather belt loop stitched to the throat and retaining strap with press stud fastener. The scabbard has a nickel plated chape. The price includes UK Delivery WW1 Era H. Boker & Co Solingen Imperial German Uhlan Cavalry Officer's Multi Tool / Bladed Folding Lock Knife With Stag Antler Scales.
Chinstrap M16. Pickelhaube .Cigarette cards, Cossackk, Hitler youth. Dagger Italian Fascist .Dagger Nazi Army Officers. Scottish Dirk. Dog Tags .germany, Malsch, Medals. Bulkhead Clock. Kriegsmarine . Cockades .Pistol Grips. Compass 1917 . Dagger German, Selling German Swords, Selling German war souvenirs,


Solingen Dagger, SS Daggers, The Free Valuation of German daggers, The German Iron
Boker Of Solingen have been manufacturing blades since 1869. This form of lock knife were reputedly carried by Uhlan cavalry officers during WW1. The knife has 2 fold out blades, one of which, the hoof trimmer, locks into place and is released by depression of a steel bar on the back of the grip frame. The 3 ½" single edged blade is signed by the maker 'H. Boker & Co Solingen' and has their Tree trade mark. The 4" curved hoof trimmer blade is marked 'Boker No 500' and is DRGM marked. It also has the tree trademark. The blades have just staining consistent with age. The blades and corkscrew tool which can be seen in the images fold neatly into its steel frame which has undamaged Stag antler scales secured by pins and German silver bolsters. One scale has an inlaid brass Tree trademark roundel. Closed the knife measures 4 ½" length. The length with larger blade open measures 8 ½" overall.
An original, Nazi German Army Officer's Dagger & Scabbard in excellent condition. The dagger's blade is clean. The ricasso is marked with the E.W. Holler Solingen name & trademark and has its original hilt washer. It has the correct distinctive 'Eagle with Swastika' design cross guard and ornate Oak leaf decorated pommel and ferrule. It has its original, undamaged, grooved, yellow/ orange hue phenol resin grip. Its original scabbard is decorated with a 'hammered' design and has 2 hanging ring mounts with Oak leaf decoration. The mounts are fitted with original hanging rings. The Price includes UK delivery. German Army Officer's Dagger With Plum Coloured Handle By 'WKC Solingen' (Weyersberg Kirschbaum & Cie) With Scabbard & Deluxe DRGM Marked Hangers. Sn 16434 – 16434
An excellent, original, 1935 pattern German Army Officer's dagger and scabbard with deluxe quality hangers . It has a clean blade stamped with the makers name and trademark 'WKC Solingen' (Weyersberg Kirschbaum & Cie). It has the correct distinctive 'Eagle with Swastika' design cross guard and correct Plum/ Brown hue 'phenol resin' grip with ornate oak leaf decorated pommel. It is complete with original scabbard which is decorated with a 'hammered' design and 2 hanging ring mounts with matching oak leaf decoration. The mounts are fitted with original hanging rings. The scabbard is fitted with hangers which have bullion stitching & rich padded velvet backing. The hangers have ornately cast buckles and clips. The metal fittings have 'DRGM' marks.
Nazi Kriegsmarine Dagger With Etched Blade By Horster, Solingen & Scabbard.
An original, Nazi German Kriegsmarine Dagger & Scabbard to a decorated U-Boat commander who was part of the Kriegsmarine Olympia crew in the 1936 Berlin Olympics. Kapitanleutnant Kurt Baberg was born on 23rd February 1917 and died 31st March 2003 aged 86. During his Kriegsmarine service he was one of the Kriegsmarine's famous Olympia Crew. This Crew chose the Olympic rings as their symbol (the 1936 Olympic games were held in Berlin). It was the largest Crew, and produced more U-boat commanders than any other – of the 164 who 'graduated', 140 took command during the war. The Officer served on U-Boats U-827, U-30, U-61 during WW2 and was decorated with Iron Cross 1st & 2nd Class, U-Boat War Badge 1939 and German Cross in gold (a period photograph portrait of the Officer is illustrated in image 2). German submarine U-30 was a Type VIIA U-boat of Nazi Germany's Kriegsmarine that served during World War II. She was ordered in April 1935 in violation of the Treaty of Versailles, which prevented the construction and commissioning of any U-boats for the German navy, and as part of the German naval rearmament program known as Plan Z. She sank the liner SS Athenia, the first ship sunk in World War II, on 3 September 1939. She was retired from front-line service in September 1940 after undertaking eight war patrols, having sunk 17 vessels and damaging two others. U-30 then served in a training role until the end of the war when she was scuttled. She was later raised and broken up for scrap in 1948. German submarine U-61 was a Type IIC U-boat of Nazi Germany's Kriegsmarine that served in the Second World War. It was built by Deutsche Werke AG, Kiel. Ordered on 21 June 1937, it was laid down on 1 October as yard number 260. It was launched on 15 June 1939 and commissioned on 12 August. U-61 was initially assigned to the 5th U-boat Flotilla during its training period, until 1 January 1940, when it was reassigned to the 1st flotilla for a front-line combat role. U-61 carried out eleven war patrols, sinking five ships for a total of 19,668 gross register tons (GRT) and damaging one of 4,434 tons. It then joined the 21st flotilla as a 'school' or training boat in November 1940 where it remained for the rest of the war. It was scuttled at Wilhelmshaven in May 1945. German submarine U-827 was a Type VIIC/41 U-boat of Nazi Germany's Kriegsmarine during the Second World War. She was ordered on 8 June 1942, laid down on 7 August 1943 at Schichau-Werke, Danzig, West Prussia. She had two commanders, from 25 May 1944 to March 1945 it was Kapitänleutnant Wilhelm Hunck and then, from 26 April 1945 to 5 May 1945, she had Kptlt. Kurt Baberg. The U-boat was scuttled on 5 May 1945 in Flensburg Fjord. The wreck was broken up in 1948. The dagger's blade has etched foliate panels and fouled anchor on both sides. The ricasso is crisply marked with the makers name and trademark 'EuF Horster, Solingen'. It has the distinctive Kriegsmarine 'Eagle Pommel, ornate cross guard with scabbard retaining button that works as it should and correct Ivory hue resin grip with wire binding which is tight and secure. The dagger is complete with its original scabbard which is decorated with a 'hammered' and etched design and 2 hanging ring mounts with Oak leaf decoration. The mounts are fitted with original hanging rings. The scabbard has contemporary etchings consisting of stylised 'KB' monogram (Kurt Baberg), U-Boat Numbers : U-827, U-30, U-61 & 1936 Olympia Crew Device. The price for this Kriegsmarine dagger to a decorated U-Boat commander worthy of further research includes
MINT, EARLY PRODUCTION, WW2 Era Nazi German 1933 Pattern SS Man's Dagger By Hammesfahr Cie (Rarity 7) Rohm Name & Motto Erased Blade , Scabbard & Hanger To A Named SS Officer Dr Konrad Lenze With Dossier Of Documents Detailing His SS Service & Antecedents
SS Officer Dr Konrad Lenze SS- Untersturmfuhrer SS No. 75133 was born 28th April 1910 in Brakel Germany. He was a qualified Medical Doctor when he joined the SS on 6th May 1933. He was allocated SS service number 75133. He attended the 1934 Nurenburg Rally & rose through the ranks, attaining the rank of Untersturmfuhrer on 20th April 1939. He served with the SS in Medical Units throughout WW2. As Hitler's Third reich collapsed huge quantities of Nazi records were captured by allied troops and many were shipped to the USA for copying. Among those records, the SS Enlisted Men & Officer files, Race & Settlement files & NSDAP membership files of SS Officer Dr Konrad Lenze SS- Untersturmfuhrer No. 75133 were copied. This is Dr Lenze's original SS Man's dagger in near mint condition, together with a bound dossier of selected copied documents from his SS records & antecedents prepared by the U.S. Historic Graphics & Research Service. The dossier has 15 plastic open top leaves which contain copies of many SS documents regarding the Officer's SS service including copies of his SS identity photographs. All ranks of the SS were authorised to wear SS Man's daggers (see pages 48 & 49 of Johnson's book Collecting The Edged Weapons Of The Third Reich Vol 1). One side of the blade is crisply stamped with the early production manufacturer's name Hammesfahr Cie Solingen. Hammesfahr Cie made approximately 15,000 of these daggers and are rated as rarity value 7 (10 being highest rarity value) in the book 'The service daggers of the SA & The NSKK' by Siegert. There is no RZM marking indicating that this is an early production example. The name of the Nazi SA leader & friend of Hitler, Ernst Rohm together with 'Friendship' motto was inscribed on early SS daggers. In 1934, Rohm was accused of Treason against Hitler and he was executed. After Rohm's death Hitler ordered Rohm's name to be removed from all blades. This dagger was made with the Rohm name and inscription which has been contemporarily removed in compliance with Hitler's order. Just the tops of a few of the inscriptions lettering remain which can be seen in the images. The rubbing of the inscription has affected just the edges of the manufacturer's trade mark. The other side of the blade has the correct "Meine Ehre Heisst Treue" (my honour is loyalty) etching. The black wooden grip is original and undamaged. The Nazi German National Emblem and 'SS' runes roundel are perfectly fitted. It has a Nickel plated cross guard & pommel. The cross guard is stamped 'III' and with Dr Lenze's SS service number . The dagger is complete with its original black anodised metal scabbard. The scabbard has a single hanging ring and nickel plated chape and throat mount. The scabbard is fitted with its original vertical leather belt hanger which has a nickel plated buckle and DRGM marked sprung clip. The price for this rare early production Nazi SS piece to a named and documented SS Officer .
Early 20th Century Imperial German Horster Solingen Forestry Deer / Boar Hunting
This is a good original Imperial German Forestry Hunting Dagger / Sidearm. These substantial weapons were carried when hunting large game such as Deer or Boar for self defence and to deliver the 'death blow' to the hunted prey. This example has an undamaged Stag antler scales each with 3 gilded alloy acorn with oak leaves devices, ornate gilded alloy hilt with knuckle guard all cast with oak leaves decoration and swept cross guard with hoof finial.The gilding is worn in areas consistent with age. Its 13 ½" single edged steel blade has fullers. The blade is undamaged and clean. It measures 18" overall. The blade has the manufacturer trademark of Horster Solingen. The blade has blued & etched panels on both sides featuring martial arms, heraldic arms, Deer & Stag in the field and a hunter in the field carrying a long arm. The weapon is complete with its original black leather scabbard with rear seam, brass throat mount with acorn locket and long chape decorated with oak leaves. The leather & stitching of the scabbard are clean and intact. The price includes UK delivery.
WW2 Era 1935 Pattern Nazi German Army Officer's Dagger By Eickhorn .
An excellent, original, 1935 pattern German Army Officer's Dagger and Scabbard. It has a clean blade and the ricasso is stamped with the Eickhorn Solingen makers name and Squirrel Logo. It has a distinctive 'Eagle with Swastika' design cross guard and correct deep orange hue 'phenol resin' grip with ornate oak leaf decorated pommel. The Dagger is complete with original scabbard which is decorated with a 'hammered' design and 2 hanging ring mounts with matching oak Leaf decoration. The mounts are fitted with original hanging rings. The price includes UK delivery. Sn 1
RARE, RHOM NAME ONLY ERASED, Nazi German 1933 Pattern SA Dagger With Motto Etched Blade, Friendship Inscription & Scabbard. Sn
The name of the Nazi SA leader & friend of Hitler, Ernst Rohm together with 'Friendship' motto was inscribed on the blades of some SA daggers. In 1934 Rohm was accused of Treason against Hitler and he was executed. After Rohm's death Hitler ordered Rohm's name to be removed from all blades. This is an original 1933 pattern SA dagger and scabbard in excellent condition. The wooden grips are undamaged. The German National Emblem and 'SA' roundel are perfectly fitted. It has a Nickel plated cross guard stamped 'No' & pommel. One side of its polished blade has the correct "Alles Fur Deutschland" inscription. The other side has the correct friendship inscription with just the Ernst Rhom name contemporarily removed as per Hitler's order and shows areas of rubbing where this process has taken place. Many of these daggers had both the friendship inscription and name removed. As is common, the removal has obliterated the name of the maker which would have been on the blade near to the hilt. The dagger is complete with its original brown metal scabbard with nickel plated chape and locket with hanging ring. The ring is fitted with its original leather tab hanger with nickel plated buckle. The price for this rare Rhom name only erased SA .
£1,475.00