Antique sword dealers - WW2 veterans -WKC Solingen Sword Buyer- sword dealer -ceremonial dagger R.A.D.Daggers, Red Cross Daggers & Hewers free valuation, second world war, Selling a German war souvenirs, Selling German Dagger In South Australia, selling Militaria in Calafornia, Selling Swords And The Law, selling Swords Legally, Selling WW2 Daggers, SENDING BLADES, Solingen Dagger, specialists in militaria, ss Dagger Dealers, SS Daggers, Steinbech-Hallenberg, Suhl, The Free Valuation of German daggers, THE PRICE GUIDE TO GERMAN DAGGERS 2016, There's no better way to understand history, Third Reich Police Bayonet Buyers, Third Reich Symbolism, Third Reich. A German-Italian Campaign Medal , Valuation of German swords, Verbot des Verkaufs der nationalsozialistischen Militaria., VETERAN'S FAMILIES, Waffen-SS, War Merit Cross, Wasserschutzpolizei , Water Protection Police, We Buy Navy Daggers, Who Ownes Hitler's Mercedies, WMW/Waffen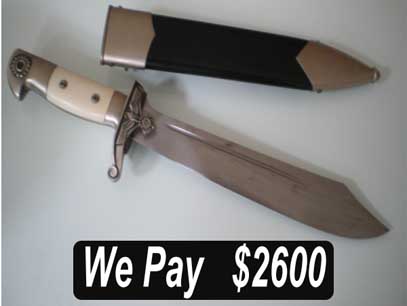 Posted by
admin
on Aug 5, 2012 in
Arundel Militaria Specialists
,
Carl Eickhorn
,
Daggers
,
free valuation
,
how to sell German Daggers
,
T.E.N.O.
|
Comments Off on TENO DAGGERS/HEWERS . DAVID MATTEY IS ON-LINE TO ANSWER INQUIRIES AND MAKE OFFERS WITHOUT OBLIGATION. German Dagger Buyers pay in advance using the "Paypal"service. Sellers will not be required to ship items until full payment is shown to have been deposited in their "Paypal"Accounts. Customers can expect to achieve around 70% of the list Prices seen on specialist websites for equivalent items. The selling process is immediate. German Dagger Buyers cover shipping costs and fees. Consigned collections and special items will achieve a greater return figure for sellers, potentially 80%-90% of dealers listed prices.of selling a TENO?.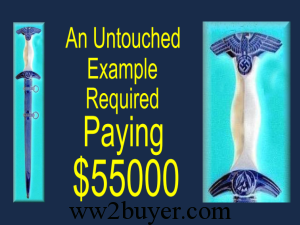 Eickhorn, Subordinate Hewer, Technical Emergency Corps, Technische Nothilfe, teno,
The Technical Emergency Corps, TN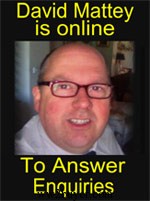 German Dagger,Original Eickhorn,Technical Emergency Corps,Technische Nothilfe,

TENO, TN,
The Technical Emergency Corps,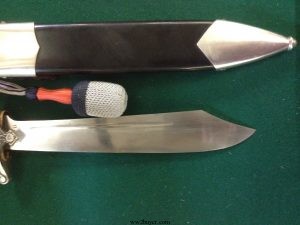 (TENO) was formed on September 30, 1919, technical volunteers who were called to duty in the event of a public disaster.

The Corps provided essential services during emergencies with its personnel being highly trained in fire fighting, decontamination, Subordinate Hewer.

issued to members of the TN. The hewer could only be purchased through official TN channels.Year Adopted. 1938.
Black Painted Scabbard, Cogwheel, german dagger, Original Eickhorn, Subordinate Hewer, Technical Emergency Corps, Technische Nothilfe, teno, The Technical Emergency Corps,
Market Assessment of German Dagger value trends observed during 2018-19
Dagger Types

Values

Dagger Types

Values

SA 1933 EM(Value Down)

Average condition U.S $550 U.K £375 Investment Grade examples up to $800 U.K. £580

Teno EM Hewer

Value

V.G. £1,475 $2000

Fine.£2000 $3000

LUFTWAFFE 1937

£3000

Teno Officer +

£3,400+

SA Honor +

£52,00

Forestry

£900

SA High Leader

£25,000

Hunting Official –

£1,300

SA Rohm EM –

£3800

Rifle Association

£1,500

SA Rohm Chained

£5,000

Hitler Youth Knife

£400

feldenhaller +(Value Up)

£55,000

Hitler Youth Leader

£3,500

NSKK 1933 EM(Value Down)

U.S.550U.K.£350

HD

£400

NSKK 1936 Chained Dagger –

£3,800

Land Customs +

£1,700

NSKK High Leader +

£32,000

Sea Customs +

£5,500 shown on the right hand side

SS 33 EM Dagger+

£2,600

Water Protection

£3,500

SS 1936 Chained Dagger

£4,650

Imperial Navy

£1200

SS High Leader –

£57,000

RAD LEADER

Up £950 $1600


SS Honor +

£52,000

NPEA student

£2,000

Luftwaffe 1(Value Hovering)

U.S.$700U.K£550

NPEA Leader

£6,000

Luftwaffe 2 -(Value Down)

U.S.$450U.K.£200

NPEA Chained

£6,000

Navy 1

£900

RAD EM +

£650

Navy 2(Value Down)

U.S.$600U.K£450

Postal protection-

£1800

Army Dagger -(Value Down)

U.S.$400U.K£220

DRK EM

£450

Army Engraved Dagger +

£1,600

DRK /Social Welfare Leader

£1,200 Shown on the left hand side

DLV knife –

£900

RLB EM 1st model

£900

DLV/Luft1 transitional+

£2,400

RLB EM 2nd model

£800

NSFK knife

£900

RLB Officer 1st model

£1,500

NSFK Dagger

£1,800

D Y V

£225 $300

1st Railway-

£1,500

Government Official

£4800

2nd Railway –

£2,700

Diplomatic Officer

£6,000-£9000 Paid

Fire Official

£800