Welcome To German Dagger Buyers.com we are museum suppliers.



We aim to provide the most competitive service from one of the very few ethical outlets




for Nazi Memorabilia on the internet.



£43,000/$65,000
PAID FOR THE ABOVE NAZI DAGGER 

We do not sell on line.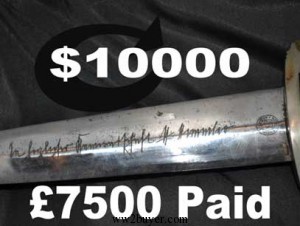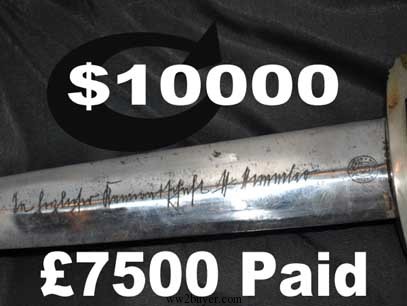 At Arundel Militaria Market
We supply legitimate museum collections.
We dispise anti semitism.



We only require genuine WW1 and WW2 relics




collected and bought home by U.S. and




commonwealth Service personnel.



We are never knowingly outbid on items we require.
German Dagger Buyers.com do not sell on-line .Ebay the major online auction service has forbidden the listing of WW2 German items to avoid being seen to promote racial hatred . At German Militaria Buyers.com we never sell directly online ,we buy for Museums and advanced ethical investors. By contacting us via email you can be certain that you are dealing with respectful people who believe the following .Articles which were plucked from the battlefields then bought home by returning service personnel should be preserved. Nazi symbols should not be seen outside of a balanced educational display .. Some understanding of how the unimaginable happened in a supposedly civilised country just a generation ago can be derived from a study of militaria .The complex insignia, uniforms and decorations which seduced a desperate people to enlist only to wage a war of brutality then exact genocide on those of a different belief .What is the correct thing to do ? Destroy the evidence? Or preserve it as a warning to future generations ? What ever your thoughts are we must present ourselves as non political history buffs who are willing to pay the correct market price for your War souvenirs.. We make every effort to distance ourselves from the white supremacists and other Neo Nazi organisations who pedal sensitive and often fake merchandise to corrupt young minds openly online . This is a serious history site only we will not sell to you unless you are a registered museum or educational facility.%MCEPASTEBIN%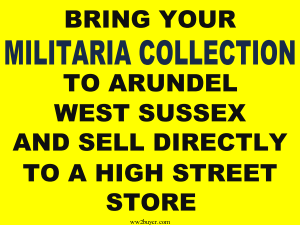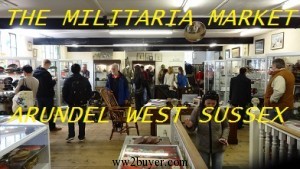 We have a large high street museum store.
Thousands of visitors to the region enjoy our spectacular display of genuine militaria and bygone travel themed exhibits.                               
Unlike specialist web sites we are in no rush to sell .We frequently pay more to increase our museum collections.
Market Assessment of German Dagger value trends observed during 2015-16
Dagger Types

          Values

  Dagger     Types

          Values

SA 1933 EM(Value Down)

Average condition U.S $550  U.K £375 Investment Grade examples up to $800 U.K. £580

 

Teno EM Hewer

Value

V.G. £1,475 $2000

Fine.£2000  $3000

 LUFTWAFFE         1937

£3000

Teno Officer +

£3,400+

SA Honor +

£52,00

Forestry

£900

SA High Leader

£25,000

Hunting Official –

£1,300

SA Rohm EM –

£3800

Rifle Association

£1,500

SA Rohm Chained

£5,000

Hitler Youth Knife

£400

feldenhaller +(Value Up)

£55,000

Hitler Youth Leader

£3,500

NSKK 1933 EM(Value Down)

U.S.550U.K.£350

HD

£400

NSKK 1936 Chained Dagger –

£3,800

Land Customs +

£1,700

NSKK High Leader +

£32,000

Sea Customs +

£5,500 shown on the right hand side

SS 33 EM Dagger+

£2,600

Water Protection

£3,500

SS 1936 Chained Dagger

£4,650

Imperial Navy

£1200

SS High Leader –

£57,000

RAD LEADER

Up £950 $1600




SS Honor +

£52,000

NPEA student

£2,000

Luftwaffe 1(Value Hovering)

U.S.$700U.K£550

NPEA Leader

£6,000

Luftwaffe 2 -(Value Down)

U.S.$450U.K.£200

NPEA Chained

£6,000

Navy 1

£900

RAD EM +

£650

Navy 2(Value Down)

U.S.$600U.K£450

Postal protection-

£1800

Army Dagger -(Value Down)

U.S.$400U.K£220

DRK EM

£450

Army Engraved Dagger +

£1,600

DRK /Social Welfare Leader

£1,200 Shown on the left hand  side

DLV knife –

£900

RLB EM 1st model

£900

DLV/Luft1 transitional+

£2,400

RLB EM 2nd model

£800

NSFK knife

£900

RLB Officer 1st model

£1,500

NSFK Dagger

£1,800

D Y V

£225 $300 

1st Railway-

£1,500

Government Official

£4800

2nd Railway –

£2,700

Diplomatic Officer

£6,000-£9000 Paid

Fire Official

£800

 
We like to know who we are dealing with and would not wish to sell to members of hate groups or supply edged weapons to young people.Visitors to Arundel are always welcome if you have a collection to sell or an individual Item you might like to see how we operate.Our Image archive is vast so if you wish to compare your items against our pictures  for the purposes of research we welcome you.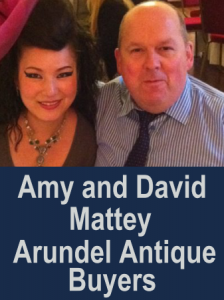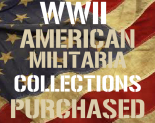 If you are hoping to achieve a better price for something unusual we offer a first rate consignment service!
The German Dagger prices below will be pre paid during 2013 for examples suitable for museum collections.

 1933 & 1936 SS daggers

U.S.        $3500-$7000U.K.        £2500-£5000

NSKK(National Socialist Motor Corps) daggers1933&1936 Daggers

U.S.         $500-$4000U.K.         £280-£3000

NPEA (National Political




Educational Institute) daggers

U.S.         $3000-$6000U.K.         £2000-$4000

1933 SA (Storm Troops) daggers

U.S.  

      $280 -$750U.K.          £250-£600

Heer (German Army)




Officer daggers

U.S.         $250-$700U.K.         £180-£600

DLV (German Air Sports Formation) Flyers Knives

U.S.         $700-$900U.K.         £450-£650

NSFK (National Socialist Flying Corps) Flyers knives

U.S          $700-$900U.K.        £450 -£650

Luftwaffe (German Airforce) daggers and Gravity Knives

U.S.         $300-$875U.K.         $180-$675

German Navy daggers

U.S.         $300-$700U.K.         £280-£800

RAD (Reichs Labor Service) daggers

U.S.       $600-$1100




U.K.     £480 – £1700

Diplomatic/Government




Official daggers

U.S.       $6000-$9000U.K.     £4000- £6500

Red Cross/Social/Welfare




Official daggers

U.S.     $400-$1200U.K.     £300-£900

German Fire Official daggers,Saw Back adds 30%

U.S.      $100 -$200U.K.       £75-£160

RLB (Reichs Air Protection Federation) daggers

U.S.     $1600-$2600U.K.   £700 -£2000

TENO (Technical Emergency Corps) daggers

U.S.     $3400-$6000U.K.    £2000 – £5000

German Custom Official daggers

U.S.     $2200-$5000U.K.     £1600-£7000

German Railway Official daggers

U.S.     $3500-$4500U.K.     £2800-£4700

Postshutze




(Postal officials daggers)

U.S.      $4000-$6000U.K.     £2200-£4000

Forestry, Hunting, and Rifle Association daggers

U.S.     $1200-$1800U.K.     £700-£1200

HJ (Hitler Youth)/DJ




(German Youth)

U.S.       $150-$550U.K        £100-£325




£4000/$6000 for Leaders

Or telephone Our High Street  on +44903-884602
Market Assessment of German Dagger value trends observed during 2017-18
Dagger Type

Value

Dagger Type

Value

SA 1933 EM(Value Down)

U.S $550U.K£350

Teno EM Hewer(Value hovering)

£1,475

 

 

Teno Officer +

£3,400+

SA Honor +

£52,000

Forestry

£900

SA High Leader

£25,000

Hunting Official –

£1,300

SA Rohm EM –

£3800

Rifle Association

£1,500

SA Rohm Chained

£5,000

Hitler Youth Knife

£400

feldenhaller +(Value Up)

£55,000

Hitler Youth Leader

£3,500

NSKK 1933 EM(Value Down)

U.S.550U.K.£350

HD

£400

NSKK 1936 Chained Dagger –

£3,800

Land Customs +

£1,700

NSKK High Leader +

£32,000

Sea Customs +

£5,500 shown on the right hand side

SS 33 EM Dagger+

£2,600

Water Protection

£3,500

SS 1936 Chained Dagger

£4,650

Postal Protection +

£2,900

SS High Leader –

£57,000

Postal Leader

£3,500

SS Honor +

£52,000

NPEA student

£2,000

Luftwaffe 1(Value Hovering)

U.S.$700U.K£550

NPEA Leader

£6,000

Luftwaffe 2 -(Value Down)

U.S.$450U.K.£200

NPEA Chained

£6,000

Navy 1

£900

RAD EM +

£650

Navy 2(Value Down)

U.S.$600U.K£450

RAD Leader –

£1800

Army Dagger -(Value Down)

U.S.$400-$600U.K£220 -£350

DRK EM

£450

Army Engraved Dagger +

£1,600

DRK /Social Welfare Leader

£1,200 Shown on the left hand  side

DLV knife –

£900

RLB EM 1st model

£900

DLV/Luft1 transitional+

£2,400

RLB EM 2nd model

£800

NSFK knife

£900

RLB Officer 1st model

£1,500

NSFK Dagger

£1,800

RLB Officer 2nd model

£1,500

1st Railway-

£1,500

Government Official

£4800

2nd Railway –

£2,700

Diplomatic Officer

£6,000-£9000 Paid

Fire Official

£800