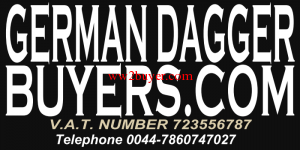 The German Air force

"Fliegerschwert" was produced from 1934 to 1941 The design takes it's form from a Celtic pattern but with the incorporation of swastika "Sunwheels" to the pommel and crossguard.GDB.com Pay £720/$1000 for early examples in nickle or"German Silver" late period aluminum pieces tend to sell for 20% less.


Edged weapons and WW2 German artifacts are banned from sale on the
internet auction site Ebay.
German Dagger Buyers .com Buy German Swords to retail exclusively to,vetted academic collectors. museums

and an ethical investment group.
German Dagger Buyers.com never condones
or promotes the National Socialists or any
hate groups who have adopted their symbols or their ideology.
German Dagger Buyers buy directly from you, so you avoid letting auctioneers take a slice of the pie.

Market Assessment of German Dagger value trends observed during 2017-18
Dagger Types

          Values

  Dagger     Types

          Values

SA 1933 EM(Value Down)

Average condition U.S $550  U.K £375 Investment Grade examples up to $800 U.K. £580

 

Teno EM Hewer

Value

V.G. £1,475 $2000

Fine.£2000  $3000

 LUFTWAFFE         1937

£3000

Teno Officer +

£3,400+

SA Honor +

£52,00

Forestry

£900

SA High Leader

£25,000

Hunting Official –

£1,300

SA Rohm EM –

£3800

Rifle Association

£1,500

SA Rohm Chained

£5,000

Hitler Youth Knife

£400

feldenhaller +(Value Up)

£55,000

Hitler Youth Leader

£3,500

NSKK 1933 EM(Value Down)

U.S.550U.K.£350

HD

£400

NSKK 1936 Chained Dagger –

£3,800

Land Customs +

£1,700

NSKK High Leader +

£32,000

Sea Customs +

£5,500 shown on the right hand side

SS 33 EM Dagger+

£2,600

Water Protection

£3,500

SS 1936 Chained Dagger

£4,650

Imperial Navy

£1200

SS High Leader –

£57,000

RAD LEADER

Up £950 $1600


SS Honor +

£52,000

NPEA student

£2,000

Luftwaffe 1(Value Hovering)

U.S.$700U.K£550

NPEA Leader

£6,000

Luftwaffe 2 -(Value Down)

U.S.$450U.K.£200

NPEA Chained

£6,000

Navy 1

£900

RAD EM +

£650

Navy 2(Value Down)

U.S.$600U.K£450

Postal protection-

£1800

Army Dagger -(Value Down)

U.S.$400U.K£220

DRK EM

£450

Army Engraved Dagger +

£1,600

DRK /Social Welfare Leader

£1,200 Shown on the left hand  side

DLV knife –

£900

RLB EM 1st model

£900

DLV/Luft1 transitional+

£2,400

RLB EM 2nd model

£800

NSFK knife

£900

RLB Officer 1st model

£1,500

NSFK Dagger

£1,800

D Y V

£225 $300 

1st Railway-

£1,500

Government Official

£4800

2nd Railway –

£2,700

Diplomatic Officer

£6,000-£9000 Paid

Fire Official

£800