Obtain our opinion/offer/free valuation.
Simply fill in the form or email-      davidmatteybuyer@gmail.com
German Dagger Buyers.com
Medal Buying Service.
Since It's inception a decade or so ago GDB.com have handled a lot more than just daggers .

 

germandaggerbuyers.com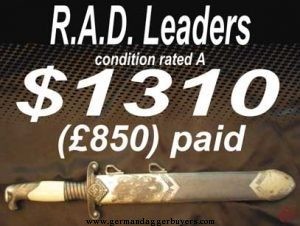 British/NZ Medals,
British Commonwealth Medals ,
Miniature Medals,
German Awards & Medals,
Imperial German Medals ,
Nazi German Medals ,
Mounted German Groups ,
Nazi Assault & Breast Badges etc ,
German Medals with Documents ,
German Award Documents ,
Rodolf Souval Post-War Copies ,
Medal Ribbon Bars ,
1957 Re-Issues Without Swastika ,
German Federal Republic 1949,
Foreign Medals,
Badges & Patches,
Militaria,
Edged Weapons,
Firearms,
New Books ,
Obtain our opinion/offer/free valuation.
Simply fill in the form or email-      davidmatteybuyer@gmail.com