Welcome To German Dagger Buyers.com


£43,000/

$65,000

PAID FOR THE ABOVE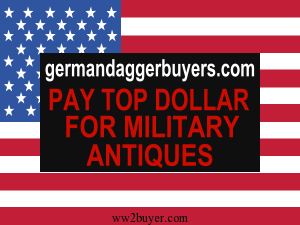 Our aim is to provide an ethical outlet
for those wishing to Nazi Memorabilia

We do not sell on line.

We supply legitimate museum collections.
We dispise anti semitism.

We only require genuine WW1 and WW2 relics
collected and bought home by U.S. and
commonwealth Service personel.
We are never knowingly outbid on items we require.
If you require a free offer/valuation without obligation to sell we are at your service. Send us in an e-mail containing photos of your Dagger or other  Militaria. We will provide you with an up to date Offer/valuation. We keep our fingers on the pulse of a changing Market. We can tell you what dealers, collectors and city investors are willing pay.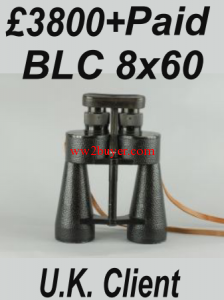 We buy from Veteran's families, collectors and dealers worldwide including the major advertisers on the internet today .We are high end retailers buying for a long term investment group and for some of the the most advanced collectors, therefore the purchase price is less a critical factor for us. Before you accept what you have been told is a" fair price" for your Dress Daggers Bayonets,etc. obtain a second opinion. Whether selling one Badge or an entire collection of Military Collectibles,German Dagger Buyers.com would like the opportunity to make you a superior offer. GermanDaggerBuyers.com dooes not support the unregulated sale of  Swords or knives on the World Wide Web. We will only supply legitimate investors.
Our Payment Policy is straightforward: You receive immediate payment for your items in full. We pay any duty on goods arriving from outside Overseas and pay all postal costs.
By dealing with dedicated professionals you will avoid the risks associated with posting your personal details over the internet we operate a zero spam policy.
If you would prefer to speak to us directly rather than to communicate via email we are quite happy to negotiate by telephone.
Our office is open 11am-5pm GMT every day. If you live within range please come and visit us.
Our services are confidential. We are happy to make purchases regardless of distance.
We offer a legal selling option for those of you living within areas of the European
June 18, 2012
Adopted in 1935 the wearing of the first pattern Luftwaffe Dagger was initially confined to pilot officers. Regulations were relaxed allowing n.c.o.s and higher ranks from all branches ot the service to wear the model.  Manufacturers include Weyersburg, Alcoso, WKC, Klaas, EP&S, Herder, SMF, Tiger, Puma, Eickhorn,Gebr Heller, and Clemens & Jung. . The fittings found on early models are of silver plated cast nickel with bronze swastica roundel inserts
Mid period models are found with zinc cast fittings and steel scabbard mounts
.later production fittings were fashioned in aluminum. perhaps to reflect the spirit of aircraft production? Some makers. Genuine examples that mix chains and fittings from different periods do exist.
Blades were usually plain in design with a silver plated finnish..These  can be found with of without a trade mark Etched examples should be viewed with great caution.  ,.The Scabbard shell was constructed of pressed steel with a fine blue Morocco leather covering. The spiral knopped grips were covered to match then adorned with twisted wires of various metal types.
The overall length is 48cm (18.9 inches).(First production scabbards have no shell and are characterised by wide staples securing the mounts.Makers found with D.L.V. type scabbards include Carl Eickhorn and Gabriel Heller.


We are enthusiastic buyers of Japanese Swords however due the the restriction on the importation of curved blades we now only buy from U.K.Veteran's families and British collectors.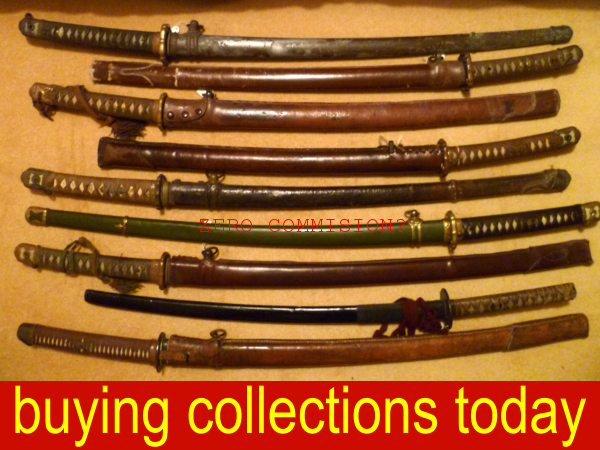 Union where the open trading in some artifacts is forbidden.
Reluctantly we have suspended the international importation of curved blades in line with U.K. legislation.
Visitors to our Arundel High Street Store will find plenty to see.
Next time you visit Arundel bring something along and obtain a cash offer/ free valuation.