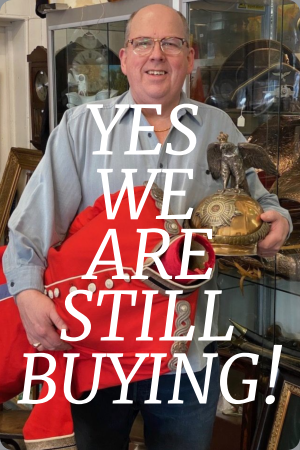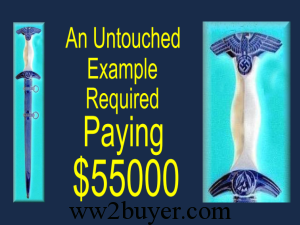 At German Dagger Buyers.com
 We Are Engaged In The Acquisition Of  Museum Worthy Exhibits.
We Currently  Supply Museums , Academic Collectors , And Ethical Investment Groups.
By Dealing With Dedicated Professionals Your Items Are Destined To Form Part Of Balanced Educational Displays.
We Distance Ourselves Unreservedly From The Unregulated Online Trade
In Nazi Memorabilia.
By Dealing With German Dagger Buyers.com You Can Rest Assured That
Whilst Our Business Is Commercial 
Our Interest Is Solely In Preserving History.
 We Believe
That  People From All  Cultures,  Religions And Orientations Should Practise Tolerance Towards One Another . Humanity Must Learn To Coexist .
The Study Of History From All Periods Is Enhanced By The Existence Of Artifacts.
Genuine Third Reich Artifacts Are Evidence Of The Darkest of  Era's, One Which Must Never Be Allowed To Return, Education Is ,We believe  Key To This Process.
The Responsible Collectors
Of The 21st Century Are Custodians Of Artifacts Which In Time Will Form Part Of  Public Museums Of The Future.
S.A. Daggers
8×60 binoculars blc solingen ww2 nazi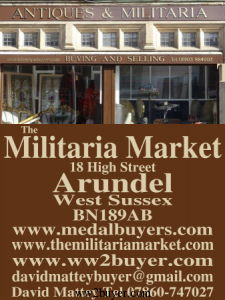 8X60 BINOCULARS

  8×60 Binoculars  are specialists committed to researching and paying the established market value for 8X60 Binoculars and associated historic Militaria.
Offers/Free valuations are by made by respected Binocular specialist David Mattey. David has turned his childhood passion into the highly successful  "8X60 Binoculars" Exhibit sourcing agency ,who's customers include investment groups, museums and the most advanced of collectors.
Obtain my offer/ 8×60 Binocular valuation now by contacting our live 24 hour desk or filling out the form provided .
None of value lost in senseless commission.

 

Auctioneers  will take a 

scandalous

 40%+ of the value of your 8X60 BLC BINOCULARS by charging 

commission to both the buyer and seller.

 

Our offers/valuations are what you 

receive.

Have you already obtained a valuation?  If so please include this in your communication we are

 delighted to have the 

opportunity

 of bettering such offers and 

paying you directly  in full .

£4000 Paid For These Cased Long 8X60s
8×60 Binoculars: professional expertise and know how.
The correct marketing of 8X60 Binoculars is an important issue. We would like our customers to know that when we make a purchase the future preservation of these fine instruments is assured. The process of  how we arrive at our buying price can be explained to customers. Broadly speaking market popularity,rarity and condition are the governing factors  in formulating our offers.

Visit Our Large Militaria Store The right 8×60 Binoculars offer/valuation for you?
At Medal Buyers  you will only ever encounter dedicated professionals . Those with an extensive background in the historic military optical  business.If our offer is not quite close enough to your expectations please speak up. Just occasionally additional research may provide grounds to improve a bid. David Mattey is a respected the negotiator with over 30 years of experience in this field  Every 8X60 BLC Binocular  evaluation is treated with the same expertise and professionalism.
8X60 Binocular/Valuations: free and confidential
8X60 Binoculars aim to make the process of obtaining offers as simple as is possible. All you have to do is complete the form available on-line To receive  a free 8X60 binocular valuation without  being made to feel any obligation to sell.
Whatever your particular circumstances are for selling.
you will enjoy our discrete informative and understanding service. Once you have established our market offer you may wish to discuss this further with relatives. Should you subsequently wish to sell, you are always welcome take us up on our offer .
Unlike the auction processes, our 8X60 valuations are free of commission and immediately available . The 8X60 Binocular buying is completely direct. you will receive the agreed sum  in full immediately. Once again If you have previously received offers from other bidders and auctions, you can include these in our online form and we will better this amount in full directly.
Free Valuation of Postal Protection Leader Daggers
Free Valuation of German Helmets

Free Valuation of German Pith Helmets

Free Valuation of German Combat Bayonets
The prices below pre paid during 2017 for examples suitable for museum collections.

 1933 & 1936 SS daggers

U.S.        $3500-$7000U.K.        £2500-£5000

NSKK(National Socialist Motor Corps) daggers1933&1936 Daggers

U.S.         $500-$4000U.K.         £280-£3000

NPEA (National Political




Educational Institute) daggers

U.S.         $3000-$6000U.K.         £2000-$4000

1933 SA (Storm Troops) daggers

U.S.         $280 -$750U.K.          £250-£600

Heer (German Army)




Officer daggers

U.S.         $250-$700U.K.         £180-£600

DLV (German Air Sports Formation) Flyers Knives

U.S.         $700-$900U.K.         £450-£650

NSFK (National Socialist Flying Corps) Flyers knives

U.S          $700-$900U.K.        £450 -£650

Luftwaffe (German Airforce) daggers and Gravity Knives

U.S.         $300-$875U.K.         $180-$675

German Navy daggers

U.S.         $300-$700U.K.         £280-£800

RAD (Reichs Labor Service) daggers

U.S.       $600-$1100




U.K.     £480 – £1700

Diplomatic/Government




Official daggers

U.S.       $6000-$9000U.K.     £4000- £6500

Red Cross/Social/Welfare




Official daggers

U.S.     $400-$1200U.K.     £300-£900

German Fire Official daggers,Saw Back adds 30%

U.S.      $100 -$200U.K.       £75-£160

RLB (Reichs Air Protection Federation) daggers

U.S.     $1600-$2600U.K.   £700 -£2000

TENO (Technical Emergency Corps) daggers

U.S.     $3400-$6000U.K.    £2000 – £5000

German Custom Official daggers

U.S.     $2200-$5000U.K.     £1600-£7000

German Railway Official daggers

U.S.     $3500-$4500U.K.     £2800-£4700

Postshutze




(Postal officials daggers)

U.S.      $4000-$6000U.K.     £2200-£4000

Forestry, Hunting, and Rifle Association daggers

U.S.     $1200-$1800U.K.     £700-£1200

HJ (Hitler Youth)/DJ




(German Youth)

U.S.       $150-$550U.K        £100-£325




£4000/$6000 for Leaders
Or telephone Our High Street Shop on 01903-884602
Market Assessment of German Dagger value trends observed during 2012-13
Dagger Type

Value

Dagger Type

Value

SA 1933 EM(Value Down)

U.S $550U.K£350

Teno EM Hewer(Value hovering)

£1,900

 

 

Teno Officer +

£3,400

SA Honor +

£52,000

Forestry

£900

SA High Leader

£25,000

Hunting Official –

£1,300

SA Rohm EM –

£3800

Rifle Association

£1,500

SA Rohm Chained

£5,000

Hitler Youth Knife

£400

feldenhaller +(Value Up)

£55,000

Hitler Youth Leader

£3,500

NSKK 1933 EM(Value Down)

U.S.550U.K.£350

HD

£400

NSKK 1936 Chained Dagger –

£3,800

Land Customs +

£1,700

NSK High Leader +

£32,000

Sea Customs +

£5,500

SS 33 EM Dagger+

£2,600

Water Protection

£3,500

SS 1936 Chained Dagger

£5,000

Postal Protection +

£2,900

SS High Leader –

£57,000

Postal Leader

£3,500

SS Honor +

£52,000

NPEA student

£2,000

Luftwaffe 1(Value Hovering)

U.S.$700U.K£550

NPEA Leader

£6,000

Luftwaffe 2 -(Value Down)

U.S.$450U.K.£200

NPEA Chained

£6,000

Navy 1

£900

RAD EM +

£650

Navy 2(Value Down)

U.S.$600U.K£450

RAD Leader –

£1800

Army Dagger -(Value Down)

U.S.$400U.K£220

DRK EM

£450

Army Engraved Dagger +

£1,600

DRK /Social Welfare Leader

£1,200

DLV knife –

£900

RLB EM 1st model

£900

DLV/Luft1 transitional+

£2,400

RLB EM 2nd model

£800

NSFK knife

£900

RLB Officer 1st model

£1,500

NSFK Dagger

£1,800

RLB Officer 2nd model

£1,500

1st Railway-

£1,500

Government Official

£4800

2nd Railway –

£2,700

Diplomatic Officer

£7,000

Fire Official

£800

 
Ebay the major online auction service has forbidden the listing of WW2 German items to avoid being seen to promote racial hatred . At German Militaria Buyers.com we never sell directly online ,we buy for Museums and advanced ethical investors. By contacting us via email you can be certain that you are dealing with respectful people who believe the following .Articles which were plucked from the battlefields then bought home by returning service personnel should be preserved. Nazi symbols should not be seen outside of a balanced educational display .. Some understanding of how the unimaginable happened in a supposedly civilised country just a generation ago can be derived from a study of militaria .The complex insignia, uniforms and decorations which seduced a desperate people to enlist only to wage a war of brutality then exact genocide on those of a different belief .What is the correct thing to do ? Destroy the evidence? Or preserve it as a warning to future generations ? What ever your thoughts are we must present ourselves as non political history buffs who are willing to pay the correct market price for your War souvenirs.. We make every effort to distance ourselves from the white supremacists and other Neo Nazi organisations who pedal sensitive and often fake merchandise to corrupt young minds openly online . This is a serious history site only we will not sell to you unless you are a registered museum or educational facility 
k