The market for German daggers and other associated militaria is under-fire from a new generation of ant -facists . The modern tribes who are grouped under the umbrella of Antifa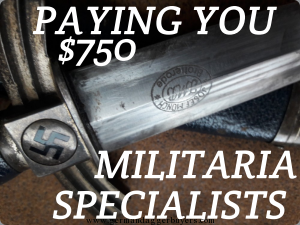 This article is about the U.S. political movement. For other groups with similar names in other languages, see Antifa.
The Antifa (English: /

æ

n

ˈ

t

iː

f

ə

/ or /

ˈ

æ

n

t

i

ˌ

f

ɑː

/)[1] movement is a conglomeration of autonomous, self-styled anti-fascist groups in the United States.[2][3][4] The principal feature of antifa groups is their opposition to fascism through the use of direct action.[5]They engage in militant protest tactics, which has included property damage and physical violence. They tend to be anti-capitalist[9] and they are predominantly far-left and militant left, which includes anarchists, communists and socialists.[11][12][13][14] Their stated focus is on fighting far-right and white supremacist ideologies directly, rather than politically.[5]

With such pressure the hobby of collecting anything German WW2 is being felt.
If you own Nazi items you may already know that they are generally of extreme value.
If you are the son or daughter of service personnel who fought in WW2 you might have militaria to dispose of ?. At German Dagger Buyers we provide a better option for those selling what can be controversial items. If You Have any German Badges from WW2 Or Perhaps a helmet or dagger call us now.