N.s.f.k. and D.L.V. knifes urgently required.


£43,000/

$65,000
PAID FOR THE ABOVE NAZI DAGGER

Welcome To German Dagger Buyers.com
We aim to provide one of the very few ethical outlets
for Nazi Memorabilia on the internet.
We do not sell on line.

We supply legitimate museum collections.
We dispise anti semitism.

We only require genuine WW1 and WW2 relics
collected and bought home by U.S. and
commonwealth Service personel.


We are never knowingly outbid on items we require.
NSFK and DLV Knives are greatly prized by collectors .
Condition of the DLV Knife or the later NSFK Nive is the over-riding factor when establishing value.

Other sought after attributes of a "Flyers" Knife may include "Personalisation" in the form of unit marks to the scabbard throat and cross-guard.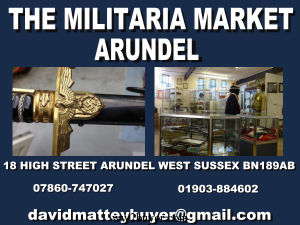 Armoury issued examples of the DLV Knife may include a weapon number which accounted for items whilst outside of the Armoury.