Reading this you will make you better placed to sell your Nazi Dagger or other German war Souvenirs .
These five golden rules should help you !
Rule 1)
Never attempt to sell German war souvenirs on EBAY. Such items as weapons and those with nazi symbols are forbidden and will be taken down .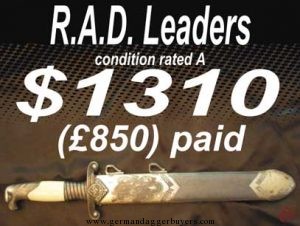 Rule 2)
Never attempt to sell German War Souvenirs at Auction.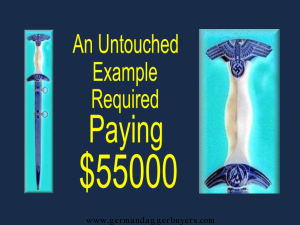 Why? because most items go to the trade before finding a home in a collection, you will lose a significant percentage of the value in seller's and Buyer's commision this amounts to 46% lost in many cases …then if that is not bad enough you will wait for payment! 
Rule 3)
Ensure that the specialists you approach pay in advance and cover insured shipping costs ..(Using Paypal is one safe transaction  method)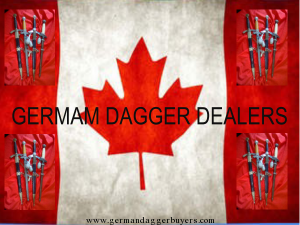 Rule 4)
Avoid at all costs selling to an advertiser who claims to be a collector ..Such tactics muddy the waters ..

All you should be concerned about are that you are getting the best possible price and selling to a responsible buyer.
In the case of knives and overtly Nazi items avoid selling to adolescents or right wing extremists . Effective advertising is an expensive commercial necessity. Business is business! collecting is collecting!  .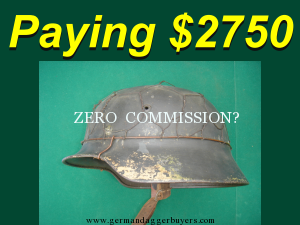 Rule 5)
Conduct some E-research and learn what specialists are asking for identical items .

 

You may never receive the listed prices seen on specialist websites but they provide a guide ..

A dealer offering an item for sale at say one thousand is likely to accept an offer of nine hundred ..

A seller should expect around 60%-70% Of the ticket price. In short if you see an item for sale at $1000 you should be prepared for offers of $600 or $700..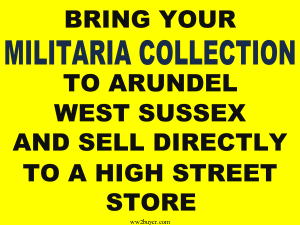 I hope the above makes perfect sense.
With less contentious items the forces of the free market come into play. Remember Nazi items are best sold through ethical dealers .. Offering Nazi items in other circumstances may cause offence or lead to fines and convescation in some places.