BY CONTACTING GERMAN DAGGER BUYERS.COM 
The National Political Educational Institute (Nationalpolitische Erziehungsanstalt) was an SS-run organization created for the purpose of indoctrinating the future leadership of the Third Reich.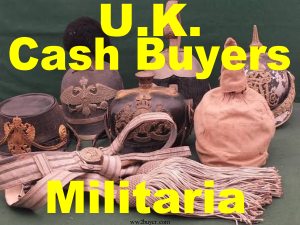 A number of NPEA schools were set-up throughout Germany and many of its occupied countries, with most leaders and instructors coming from the SS.
There were three forms of Political daggers associated with the NPEA.

The Student version, the Staff Leader and the Chained Leader.

The Student version (produced by Karl Burgsmüller and WMW) had no insignia in the SA style wood grip.

The crossguards were solid nickel on early versions and aluminum on later types. The scabbards were an all steel version painted olive drab.

There were no mounts on the scabbard.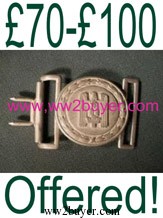 The blades were etched with the motto of the NPEA, Mehr Sein als Scheinen or "Be more than You Appear".

The Staff Leader versions were produced by Eickhorn, and were identical to the Student, except there was a National eagle design in the grip. The Chained Leader (produced by Burgsmüller, Eickhorn and WMW) was worn by instructors and leaders of the NPEA.

The dagger itself had the National eagle in the grip but was otherwise the same as the Student version.

The scabbard was olive drab, having three nickel plated mounts. The upper and center scabbard mounts carry a chain hanger.
Second world war, Selling a German war souvenirs, Selling German Dagger In South Australia, selling Militaria in Calafornia, Selling Swords And The Law, selling Swords Legally, Selling WW2 Daggers, SENDING BLADES, Solingen Dagger, specialists in militaria, ss Dagger Dealers, SS Daggers, Steinbech-Hallenberg, Suhl, The Free Valuation of German daggers, THE PRICE GUIDE TO GERMAN DAGGERS 2016, There's no better way to understand history, Third Reich Police Bayonet Buyers, Third Reich Symbolism, Third Reich. A German-Italian Campaign Medal , Valuation of German swords, Verbot des Verkaufs der nationalsozialistischen Militaria., VETERAN'S FAMILIES, Waffen-SS, War Merit Cross, Wasserschutzpolizei , Water Protection Police, We Buy Navy Daggers, Who Ownes Hitler's Mercedies, WMW/Waffen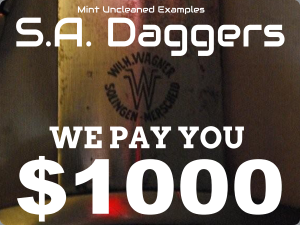 YOU HAVE THE OPPORTUNITY OF GETTING UP TO 250 INDEPENDENT OFFERS FROM AROUND THE WORLD WITH JUST ONE EMAIL !
AT GERMAN DAGGER BUYERS.COM  WE WORK HAND IN HAND WITH THE WW2BUYER FACEBOOK PAGE ..

WHEN WE RECEIVE YOUR ENQUIRY WE CAN POST IT ON OUR FACEBOOK SITE AND GET UP TO 250 OPINIONS OR OFFERS. 

IF YOU WISH TO BE INCLUDED IN THIS PROCESS MARK YOUR EMAIL "FACEBOOK". BENEFITS INCLUDE FINDING A BUYER FOR YOUR MILITARIA WHO LIVES CLOSE TO YOU .. IF HOWEVER YOU REQUIRE OUR REGULAR  CONFIDENTIAL SERVICE THEN THAT IS WHAT WE WILL PROVIDE FOR YOU .
REACH 1500 FACEBOOK MILITARIA ENTHUSIASTS IN ONE EMAIL Shields & Swords Daggers & Spears Guns & Trench Art Arms & Armour SOLINGEN STEEL GLIDER DAGGER specialise in the

purchase of your German daggers Specialising in Medals awarded to 1st King's Dragoon Guards cap badge value/price specialist militaria ss cap skull ss dagger epns SS Dagger Valuation SS Daggers SS Elite Guard Collection ss helmet for sale ss honour ring SS Nazi Soldiers ss war souvenirs steel helmet ww2 Sudetenland Medal sussex militaria Sussex Militaria Collectors swastika Sword Bayonet Swords

T.E.N.O. Tank Battle Badge Tank Destruction Badge The 1939 Iron Cross The Distinguished Flying Cross The Ethical And Legal Sale Of Antique Arms In The U.K. The German Iron Cross the greatest market prices The Knights cross the militaria dealers The Militaria Market The Pattern 1907 the RAF The Royal Air Force 1940 Third Reich Badges Torpedo trophy

trench art TRUST YOUR HIGH STREET MILITARIA STORE twitter militaria U-Boat binoculars U-Boat War Badge U.K. Militaria Dealers U.K. Militaria shop U.K. Militaria Specialists U.K. Militaria Sussex U.K.'s biggest hidden stash of hidden militaria U.K.Laws pertaining to edged weapons . Uk Militaria Buyers Valuation of Luftwaffe Gravity Knives Valuation of Flying Helmets. Valuation of medals Valuation Of Nazi Militaria?edals  Valuation of NPEA Daggers Valuation of SA Daggers Valuation of SS Daggers Valuation of WW2 Flying Helmets

Valuation WW2 Polish Medals valuations of war memorabilia Verbot des Verkaufs der nationalsozialistischen Militaria.
Vice Roy's Bodyguards Adjutant also Comptroller of the Vice Regal Household. Vintage Visit our store visor cap dealer waffen loashe Waffen SS Waffen SS Cuffbands WAFFEN-LOESCHE WANTED BATTLE OF BRITAIN War Medals war memorabilia auctions War Relics Purchased War Souvenirs watches ww2 We are still buying deactivated guns We Are U.K.Cash buyers Of Militaria We Buy Medals We buy Pickelhaube ww1 Russian We Pay You More For Militaria